2007's Top Products Apple may be keen to tout the Touch's 3.5in display, but the first thing you notice about the new iPod is how thin it is. Front to back it measures 8mm - on paper not as thin as the 6.5mm thick iPod Nano, but you'd never really know unless you measured them both. The point is, the Touch is supremely skinny.
It's hard to describe the Touch without constantly referring to the iPhone, so closely do the two resemble each other. The Touch's display is surrounded by black plastic, and both screen and bezel do indeed appear to be protected by a sheet of glass. Below the screen is the Home button, and bordering the player is gunmetal-grey edging onto which the iPod-standard chrome-look backplate clips.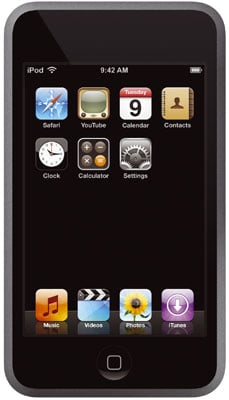 Apple's iPod Touch: iPhone-inspired
The top left corner of the Touch's backplate has been cut away to make room for a plastic cover that allows Wi-Fi signals to pass through. The wireless window on the iPhone is larger, but it covers the bottom tenth of the backplate, so it's somehow less conspicuous than the one on the Touch.
The Touch has the same user interface as the iPhone, though Apple's rearranged the icons into a more appropriate order for an iPod. At the bottom of the screen is the player's Mac OS X-style Dock, this time rendered as transparent sheet reflecting the icons that are sitting on it: Music, Videos, Photos and iTunes, the latter for the download store.
Above them, at the top of the screen, are the other applications: Safari, YouTube, Calendar, Contacts, Clock, Calculator and Settings. Contacts is new, providing the same access to your address book that the iPhone's Phone app does. Despite the Touch's wireless connectivity, the iPhone's useful Weather app isn't present. Worse, there's no Mail either.



Sleek and svelte
Nor is there the ability to add Contacts and enter new appointments into the Calendar. In that sense, the Touch is more akin to the old Palm Pilot that more recent PDAs - it's a device for taking your personal information with you rather than a data-entry tool. And it's no different from past iPods that have been sync'd with contact details and diaries.