The Music, Movies and Photos applications operate just like their iPhone equivalents - there, Movies and Music are combined into a single app, iPod. The default Playlists, Artists, Songs, Albums and More tabs can be rearranged and changed - maybe you'd rather have Podcasts listed than Playlists, for example.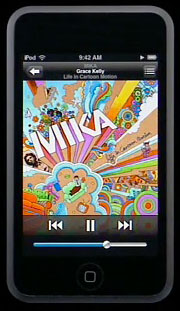 From album art...
Rotating the Touch through 90° pops up the iTunes-derived Cover Flow, and you can flick through the album covers on display quickly - the animation is smooth and lag-free. Tapping an album rotates the cover to reveal a track listing - click on the one you want to start playing it, or tap elsewhere on the screen to go back to Cover Flow. Rotating the Touch back presents the cover of the album you've selected with easily reachable play/pause, track skip and volume controls. A button at the top right flips the cover round to reveal the track listing - as this happens the track list button itself rotates into a tiny album art icon.
Tap anywhere else on the album cover and a bar appears showing you how long the current track's been playing and how long there is to go, along with a progress bar that you can shuttle along by dragging a blue blob - just like adjusting the volume.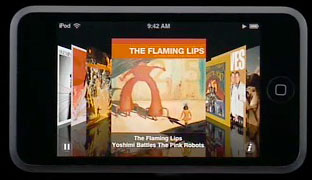 ...to Cover Flow, at the flick of a wrist
The Video app works broadly the same way, just with fewer list options and video playback fixed in landscape mode no matter how you hold the player. This makes sense, because you want to maximise the viewing area. Tapping the screen brings up the playback controls, and you can double-tap to switch between fitting the video to the screen's horizontal dimensions - so you get black bars above and below the picture - and its height, so the picture fills the screen, but you may lose a bit off either end. Videos encoded in a 4:3 ratio are not stretched to fit, but appear with black bars to the sides.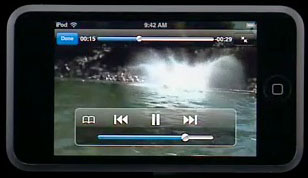 Full control video
Some early users in the US complained about the quality of the Touch's display, in particular the way darker areas of the picture appeared brighter than they should have. A duff batch of screens or an endemic fault? It's hard to say, but we found the display eminently watchable and we didn't experience any problems with it, whether we were watching videos we'd sync'd over with iTunes or content accessed through the YouTube app.