This article is more than 1 year old
A private view of Phoenix and Mars
It's further from Tucson than you'd think
Peter Smith is counting down to the white-knuckle day of his life. On May 25 next year, the Phoenix Mars lander is due to touch down on the Mars surface. If all goes well, over the following 24 to 48 hours the lander's solar panels will extend and the lander will start the science experiments it's there to conduct. As the mission's principal investigator, Smith has everything invested in a safe landing.
Most talk about the Mars mission is about the chances of proving whether there has ever been life on Mars.
"What I hope that we can find – and I have no way of knowing – is that the ice preserves the organic material that has at least fallen on Mars over the last four billion years," Smith says. "A lot of it comes from asteroids and comets – you find organics on the Moon, for gosh sake. Why don't you find it on Mars?"
The absence of that material led people to think for much of the 20th century that there never had been life on Mars: without carbon, no life. On this mission, if they don't find organic material that doesn't prove it's not there; it just means it's not where they've looked. Ice lies under the surface of 25 percent of the planet, and they're going to land in one spot and dig one trench. What are the chances?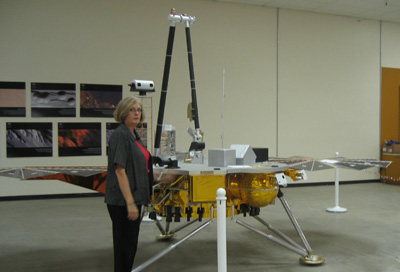 Smith is speaking to us in the Lunar and Planetary Laboratory at the University of Arizona, in Tucson. Being based in Tucson and heading up a mission called Phoenix is a little confusing, since the two cities are only separated by a two hour drive. But these people are rocket scientists, and they can cope, even if the politics are the same as if you created an "Edinburgh mission" in Glasgow.
In fact, the Phoenix name refers to the fact that this mission has risen out of the ashes of the two failed Mars missions that preceded it.
The 1999 crash of the Mars orbiter effectively cancelled the planned 2001 mission and put the scientific instruments Smith had developed for those missions into cold storage. When NASA decided to let science lead a mission to Mars for the first time and requested proposals, Smith saw the opportunity. NASA had, he explains, done science-led missions before – most notably Deep Impact, in which NASA drove a spacecraft into a comet to study its composition and therefore that of the solar system – but this was the first to Mars.
Sunken dream
The question Smith had to answer: Where should the mission go? It's a big planet. Then, in 2003, the Mars Orbiter sent back pictures showing water-ice under the poles. The timing of the launch opportunity knocked out the South Pole, which would be wholly dark at that time of year. Therefore: the North Pole.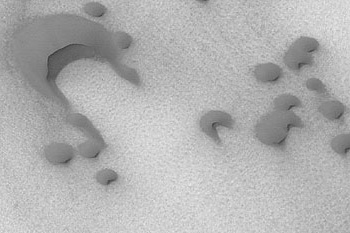 The exact landing site is still undetermined, awaiting higher-resolution pictures from the Mars Reconnaissance Orbiter. The general area is known, a site of about 250 square miles around the North Pole. But it has to be safe for the lander, which means no big boulders and no steep slopes. At least one candidate spot has already been rejected because better pictures showed it was studded with boulders the size of mini-vans.
Smith's office is tucked away around the corner from a large warehouse-like area that houses two full-scale copies of the lander, one out on the floor and the other positioned on a sort of stage set dressed up in an approximation of the Mars surface. The really noticeable thing - it's really small, considering it's travelling 35,000,000 miles across space. With the solar panels extended, it's only about 18 feet across and weighs only 772 pounds. (At launch, it weighed 1,477 pounds – it used up fuel and has jettisoned a rocket or two since then.)
Assuming all goes well and it lands safely, it will run for 90 days until the oncoming Martian winter takes away the sun it needs to run the instruments and puts it to sleep. Meanwhile, in a large room near Smith's office that's divided into signposted sections for atmosphere, biological potential, chemistry, and geology, some 70 to 80 scientists will be losing their minds living on Martian time and arguing daily over how much of the lander's power to allocate to each section. The key instrument on the lander is the eight-foot robot arm that will scoop up soil samples for closer examination. Besides that, the lander has five cameras, an oven, and a gas spectrometer.
Until the robot arm digs up samples so they can be microscopically examined, the team can't be absolutely sure it's water under that surface. But, says, Smith, they're sure it's hydrogen-rich, and that limits the possiblities. It can't be pure hydrogen – as a gas, it would just float away. The most likely thing for hydrogen to combine with is oxygen – which is water. But at those temperatures, any water will be frozen.
"The only other possibility," says Smith, "is oil."
Water isn't a guarantor of life, but life as we know it requires water. Certainly, Smith says, it requires some kind of fluid, if only because molecules can only move if they're suspended in fluid. It might not be life as we usually think of it; we could be talking about tiny creatures that can live in monolayers of water. This sounds less far-fetched than it might elsewhere, since the Sonoran Desert Museum, about 30 miles away, keeps displays of desert fish, which can survive in the slightest wisps of puddles.