This article is more than 1 year old
Nokia releases 8GB N95 smartphone
Apple who?
The 8GB version of Nokia's N95 3G phone - sorry, "multimedia computer" - has begun making its way out of the Finnish phone giant's factories and onto store shelves, the company claimed today.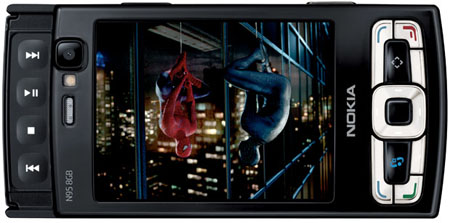 Nokia's N95 8GB: back in black
The new model represents not only the addition of four more gigabytes of storage to the 'Swiss Army Knife' handset, but also all the software tweaks Nokia has made available for the phone since it was released back in April this year. A case in point: the new N95 incorporates Nokia's Assisted GPS technology, which sends the handset location hints over the network to compensate for weak satellite signals.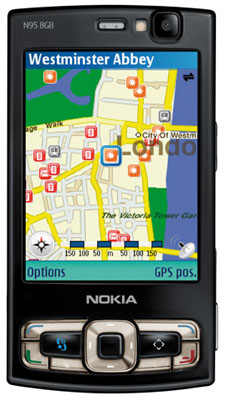 Assisted GPS to beat weak satnav signals?
The N95 8GB, like the earlier model, packs in not only quad-band GSM/GPRS/Edge and 3G 3.6Mbps HSDPA connectivity, but also 802.11b/g Wi-Fi and Bluetooth 2.0 - the latter with A2DP wireless stereo support. The main screen is a 2.8in, 240 x 320, 16m-colour panel and there's a five-megapixel digital camera with a Carl Zeiss lens on the back.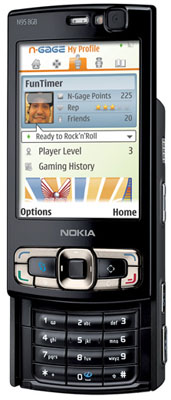 N-Gage Gaming Service on board
The handset also includes Nokia's N-Gage gaming system, which will provide online gaming community and game download service when it goes live at some point between now and the end of the year - Nokia wouldn't narrow the launch schedule any further than that. Nokia's Nokia Music Store will go live sometime during Q4 too, it said. Again, the service will be accessible via the N95 8GB.
Buyers in Europe will get a free copy of Spider-man 3 pre-loaded onto the handset.
Register Hardware reviewed the original, 4GB N95 here.
Expect to pay around €560 ($794/£390) pre-tax for the SIM-free N95 8GB - less if you buy one tethered to a specific network.