Asus launches tiny PC
Micro computer
Asus has formally rolled out its Eee PC line of sub-notebook computers, a week after UK supplier RM - formerly Research Machines - spilled the beans on two of the models. The complete line-up comprises four computers.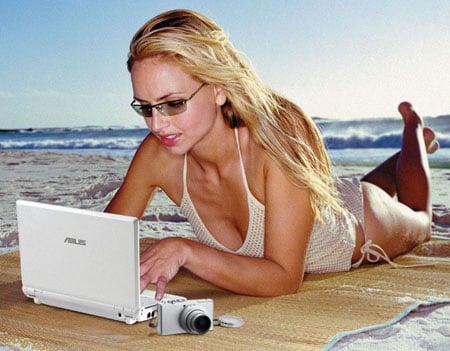 Asus' Eee PC and... er... Reg Hardware reader, yesterday
All four models are based around the same 7in display; 900MHz Intel Celeron processor and chipset; 10/100Mbps Ethernet port and 802.11b/g Wi-Fi for internet access; HD audio; three USB ports; SD card slot; stereo speakers and microphone input; and a version of the Linux open source operating system, Xandros.
The basic model, the 2G Surf has a 2GB of Flash storage and 256MB of DDR 2 memory. The 4G Surf ups the storage to 4GB and the memory to 512MB. The next machine up, the plain 4G model, matches that spec but introduces a 0.3-megapixel webcam into the display's bezel. It also ups the first two machines' 2.8-hour, 4400mAh battery to a 3.5-hour, 5200mAh unit.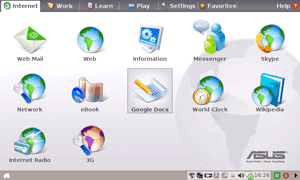 The Eee PC's Linux UI
The top-of-the-range 8G builds on the 4G and is fitted out with 1GB of DDR 2 and 8GB of Flash in addition to the extras the 4G offers.
While the Eee PCs are designed to run Linux, they will operate with Windows XP too, and Asus has already posted a stack of drivers necessary for folk who do want to use the Microsoft OS. The on-board Linux distro comes with email, web browsing and internet radio apps, along with Skype, Google Docs and a Wikipedia look-up tool.
Different models will make it to different territories. Asus UK, for instance, will be offering only the 4G, for £219 including VAT. It will also offer a version of the 4G with an internal 3G HSDPA card - however, the add-ins price has yet to be set.