These watches may look as though they're from a future era, but the LED-based timepieces could be just the thing to adorn your wrist and compliment your I-LUV-UNIX T-shirt.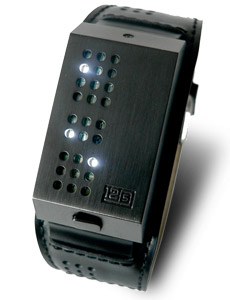 Do you know what time it is?
Japanese firm Tokyo Flash has been selling an extensive range of LED watches locally for some time, but it's now working with UK company Techdeals to encourage Brits into making one of life's easiest everyday tasks more stylish but that much harder.
The Twelve 5-9 range uses a combination of 12 LEDs for the hour of the day, five LEDs for tens of minutes and nine LEDs for single minutes. There's various models in this format, with one that looks as though its borrowed Knight Rider's scanning light.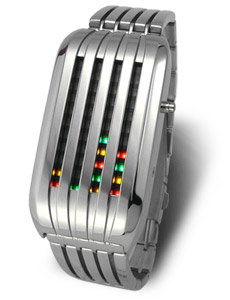 Barcode: the sum of various LEDs show the time
Alternatively, the Barcode range displays time like an abacus, using each LED 'bead' to represent five or ten units. You'll have to be at the peak of your mental fitness, though, because you'll have to add all the LEDs values together to get the current time.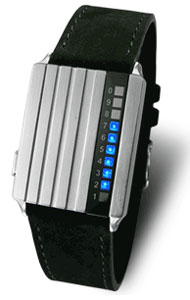 Retsu: LED lines tell the time
Another design, dubbed Retsu, has just one line of LEDs that stack up vertically against ascending digits. For example, an LED line extending to seven, then four and finally three means the time is 7.43, but leaves the AM or PM decision up to the wearer.
If you're more concerned about style though, then the watches are available with a wide range of straps, a selection of LED colours and enough designs to keep you mentally stimulated. Just don't wear one to the pub.
The UK selection is available here now, with prices ranging from £60 (€85/$120) to £100 (€125/$200).