SNW QLogic is giving a preview of its latest gear at Storage Networking World in Dallas, including the claimed first complete Fibre Channel over Ethernet (FCoE) converged network.
The 10Gb FCoE demo comes courtesy of QLogic's adapters, storage gear from NetApp and technology from Nuova Systems.
QLogic also announced a new 8Gb Fibre Channel array and 20Gb InfiniBand networking technology. It says the gear is designed for "the new data center" — and we grudgingly give them credit for it. However uninspired, it's a shave better than labeling it something dot oh.
For those not religiously following the latest network protocols, Fibre Channel over Ethernet allows SAN traffic to be natively transported over Ethernet networks, bypassing the TCP/IP stack. This means servers could use the same interface for both data and storage networking as well as use a single set of cables and switches.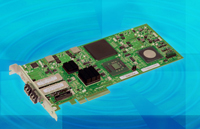 You got Fibre Channel in my Ethernet.
No you got Ethern...
The network adapters shown today at SNW will allow 10Gb FCoE using the same software stacks as QLogic Fibre Channel HBAs. The tech promises to give the rising popularity of iSCSI a run for its money.
QLogic sees the technology giving customers the ability to consolidate networks in a similar fashion to what we've seen lately in servers and storage. It hopes the proposition will appeal to data centers aiming for density with virtualization, blade servers and multi-core processors.
"FCoE requires the use of a new class of converged network adapters that appear to the operating system like a Fibre Channel HBA and an Ethernet NIC consolidated into a single adapter," said Jeff Benck, QLogic president and COO. "Converged network adapters from QLogic are designed to preserve our customers' investment in proven Fibre Channel software stacks from QLogic and provide an ability to run data networking traffic simultaneously."
Benk has lofty dreams for the technology. He predicts the adoption of FCoE in 100 per cent of Global 2000 corporations and 10 per cent of SAN ports running FCoE. Fortunately, the SAN and LAN teams won't be fired overnight. His prophesy continues that companies will still have two independent teams — they'll just be using the same set of wires.
In the meantime...
QLogic has shipped its family of 8Gb/s Fibre Channel adapters and switches to OEMs. The SANbox 5800 series is a stackable 8Gb Fibre switch with 20Gb stack interconnect. The SANblade 2500 series of Host Bus Adapters feature "Adaptive Power Management" which powers down lanes when it can to save energy.
For midrange high performance computing, QLogic unveiled the SilverStorm 9020 InfiniBand switch. It sports gateways to Fibre Channel storage networks and Ethernet data networks for high-performance Oracle RAC clusters.
"SANs and server virtualization are forces behind the massive waves of server and storage consolidation that continue today," said Benck. "Beginning in 2008, emerging high-performance networking technologies will power a new wave of 'network' consolidation." ®
Similar topics