Review With its pulsing lights and back-to-nature themes, Sony Ericsson's S500i is aimed at the supposed style-savvy consumer. But does this sliderphone have the functionality and appeal to really grab fashion-phone followers?
Sony Ericsson has been busy of late peppering its handset range with new Walkman and Cyber-shot models, dangling music and cameraphone excellence to tempt buyers. But the company has also been flirting with the style-conscious buyer with phones like the candybar T650i and now the S500i.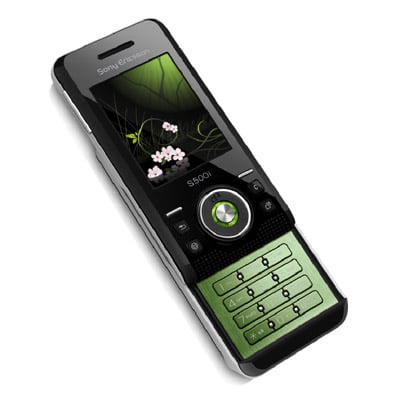 Sony Ericsson's S500i: floral wallpaper
Rather than opting for glinting ultra-flash styling or fashion-house chic, though, Sony Ericsson claims to have been influenced by the natural world. Sony Ericsson spin-meister Steve Walker said: "Our designers have taken inspiration from nature and the Nordic light to produce phones that are beautiful to look at and alive with energy."
Yeeessss. You can read what we think of this kind of tosh here, courtesy of our very own Hardware Widow.
But enough of the flummery - on with the features. Lighting is one of the S500i's most notable design characteristics, with side panels that pulse and glow as the phone is being used and to alert you to calls. This is nothing new with mobiles, but Sony Ericsson has here gone for a more subtle interpretation rather than pure disco-phone or glow-stick replacement.
The lighting's colours can be switched between the straightforwardly named Red, Green and Orange to the more florid Love, Fire, Disco, Glimmeringpulse and more to suit your "Nordic" lighting tastes.
The S500i measures a pocket-pleasing 1.4cm thick, though at 9.9cm long its reaching candybar-length proportions. The casing is glossy plastic, and has a tactile rubber-feel back panel. The front casing is a bit squeaky when pushing up and down, which points a finger at some cost savings. The spring-action is smooth and substantial enough, however.
Sony Ericsson has been clever in using some unusual, contrasting colours to lift the 550i above your average slider. We looked at the Mysterious Green version – a predominantly black phone with emerald green keypad hidden under the slider, and a subtle glowing green circle around the front navigation key. Other versions of the S500i are decked out in Ice Purple, Contrasted Copper and Spring Yellow.