Asus Maximus Formula Intel X38-based mobo
Maximus or minimus?
---
Review Intel's new X38 chipset sweeps aside the elderly 975X and storms to the front of the queue as the natural choice for anyone building or upgrading a Core 2 Duo, Quad or Extreme PC. In essence, the X38 is a souped-up P35 with added support for the next-gen 1600MHz frontside bus (FSB) as well as Intel's 45nm 'Penryn'.
As things stand, the P35 supports a 1333MHz FSB and doesn't support Penryn, although we'd be none too surprised if the Taiwanese didn't add unofficial support.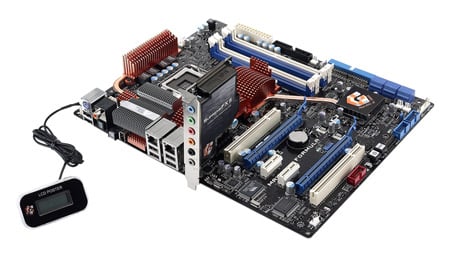 Fusion cooling
We mentioned the 975X as it was marketed as the Intel chipset of choice for gamers because it dedicates 16 PCI Express lanes to a single graphics card or splits the bandwidth evenly into two 8x slots if you have two AMD cards in CrossFire mode. By contrast, the P35 has 20 PCIe lanes, of which 16 go to the primary graphics card while the remaining four go to the secondary card.
The 975X is quite old, doesn't support the 1333MHz FSB and is paired with the ancient ICH7 southbridge I/O chip. The X38 makes another nod to the future as the PCI Express support is PCIe 2.0, which operates at double the speed of the PCIe 1.1 bus and has twice the bandwidth. No doubt we will see PCIe 2.0 graphics cards in the near future.
When it comes to memory support, the X38 is very similar to P35 as it can support either DDR 2 or DDR 3. The difference is that it can run DDR 3 at 1600MHz, provided you also run the FSB at 1600MHz. With today's 65nm 'Kentsfield' and the first Penryn Core 2 Extemes, that speed will require some overclocking, but in time it will become the new default speed. Our experiences with fast DDR 3 have been uninspiring, and it would seem that Asus is of a similar mind as it has chosen to focus on DDR 2, even though that limits the speed to 1333MHz. Considering the price of DDR 3, we think it's a very fair move by Asus so enough of chipsets, let's get on with the review.