Sony has finally announced that its PS3 Eye camera will hit European shop shelves next week, bundled with an interactive board game.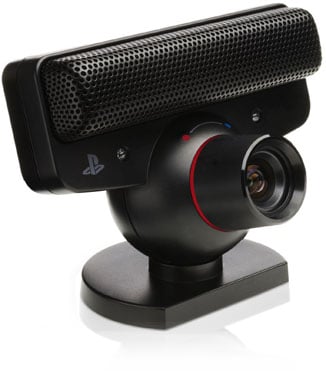 Sony's PS3 Eye: cheaper, camera-only pack coming soon
The Eye will be sold with game Eye of Judgment for around £65 (€90/$125) in the UK on 26 October, three days after its US release. There it will cost a mere $65 - the equivalent of £32 and €55 at today's exchange rates.
Want to pay only £25 for the Eye? Then wait a few weeks. On 7 November, Sony will sell the camera on its own. The solo pack includes software that lets users take pictures and record video and audio, all of which can be stored on the PS3's hard drive.
As previously reported, the Eye has a manually switched two-mode lens: one for close-ups, the other for "full-body" shots. It also has a 640 x 480 resolution and 60 frames per second (fps), but can reach 120fps if you're willing to forgo the resolution and drop to 320 x 240.
The Eye of Judgment is a card-based game that uses the Eye to track the movement of interactive cards around spaces on a board, creating various monsters and spells on your telly as a result - think Dungeons and Dragons for the 21st Century.
Similar topics
Broader topics