Review When we recently reviewed Sling Media's Slingbox Solo, we noted that the lack of a TV could limit its usefulness for quite a few folk. Well, now it's the turn of the other new - in the UK at least - Slingbox, one that does have a tuner: the Slingbox Pro.


Sling Media's Slingbox Pro: multiple input, one output
The Pro is actually almost a year old, having been launched in the US 12 months ago. But while the UK box sports the same red and translucent white plastic styling of old - it's not a patch on the new Solo's look - Sling claims the version for the Brits incorporates new video technology. It also comes bundled with the component-video dongle that Americans have to buy separately, but more on that story later.
If you're as new to the world of Slingbox as the Pro is to British buyers, it's a box that takes a video signal and transmits it across a network - your own or the internet - to a mobile phone, Mac or PC for playback. All it needs to do that is a broadband internet connection at both ends of the link. As we say, the Pro has its own digital TV tuner, but it can also take pictures from a number of other sources, many of which it can control directly through its virtual remote system.
Like all other Slingboxes, the Pro's front panel is limited to logo and LEDs, one of the latter to show it's powered up and another to indicated it's connected to a network. The Pro's 10/100Mbps Ethernet port is round the back, alongside the power socket, which connects to a small AC brick, and the jack for the unit's infrared transmitter, used to control two video sources.


An array of inputs and outputs
You'll also find here inputs for composite- and s-video, and RCA stereo feeds. Each of these has a corresponding output to link the Pro to your TV. Similarly, there's not only an aerial input, but a pass-through port for your TV and/or set-top box. Sling bundles a composite-to-Scart adaptor.
The little port at the right-hand side in the image above isn't an HDMI connector, some may be disappointed to hear, but the proprietary link to the aforementioned component-video dongle - pictured below - which also has both input and output jacks.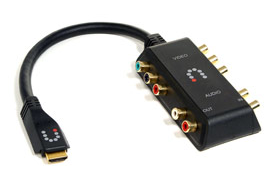 The Slingbox HD Connect component-video dongle
As is the case with all other Slingboxes, setting up the Pro is simplicity itself: connect it to your network - you'll need a wired connection as there's no wireless on board, alas - hook up your aerial feed, cable it up to any other video sources you want, and plug in the power brick. Unlike the Solo, the Pro can transmit from all of its inputs, not just one of them. You can switch between them at will using the SlingPlayer software that runs on your playback device.