Review LaCie has been making a selling point out of designer external hard-drives for years, but as many of its rivals have adopted a similar strategy - those not slugging it out on price, that is - the French company been forced to up the ante with ever more outlandish products.
For every stylish Porsche-designed Firewire unit or heavy metal Little Big Disk - reviewed here - there's another that's totally off the wall. Take 2005's Lego-style desktop and mobile drives - a hit with some users' inner kid, but a mental block for many others. And what about last year's Skwarim micro HDDs, kitted out in bright blue and bright pink rubber-like plastic? Fetishists, please form an orderly queue...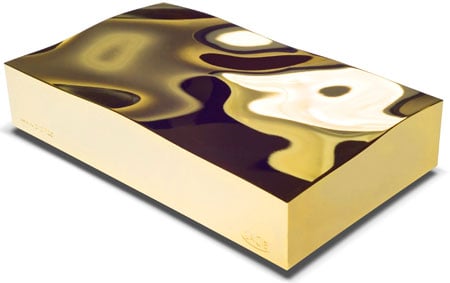 LaCie's Golden Disk: Midas touch
LaCie's latest, the appropriately named Golden Disk, is no less bizarre, perhaps. It's certainly the shiniest, most lustrous external hard drive we've ever seen. And we're not talking the mute matt tone of most spray-paint gilding but a true see-your-face-in-it yellow-metal mirror.
Size-wise, the Golded Disk roughly matches LaCie's Porsche desktop drive, and it's clearly the older unit's offspring. Both are largely unadorned but for a couple of logos on one side, the left, with an air vent on the other and a tiny orange activity LED in the bottom left-hand corner of the front panel. Round the back, there's the same DIN-style four-pin power connector from the same small AC adaptor, and a round push-button to turn the drive on. The Golden Disk also sports a printer-style USB port, for which there's a cable in the box. There's also a black polishing cloth to remove the fingerprints that the drive's shiny surface inevitably attracts.
But where the Porsche unit is clad in an austere, gunmetal-grey steel casing that says it means business, the Golden Disk is, as we say, very shiny, very golden and as camp as Butlins. It's not real gold - it's not heavy enough for that - but you could be forgiven for thinking you've gone and got an ingot.
It's the sort of item you'd expect to see in the Tate Modern, exhibited as a clever-dick comment on consumerism or a pithy po-mo pastiche of tasteless technology design, depending on your point of view.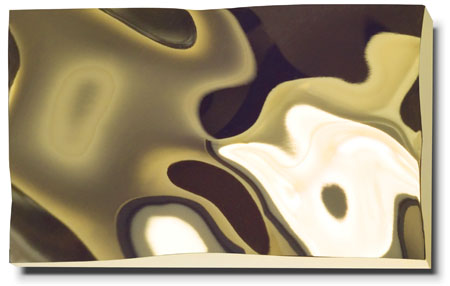 C3PO's ideal hard drive?
Or you might think it just plain tasteless, more crass than class. What stops the design being little more than a Chav's must-have is the gently rippled upper face, which distorts what's reflected off it like something out of a Hall of Mirrors fairground attraction. The look comes from French design house Ora-Ïto, which also includes Toyota, LG, Swatch, Renault and Virgin among its other customers.