SanDisk is taking the fight to the Apple TV and the iTunes Music Store, launching this past Friday a video playback device that's connected to a telly, and a onlince content source to feed it with US TV programming.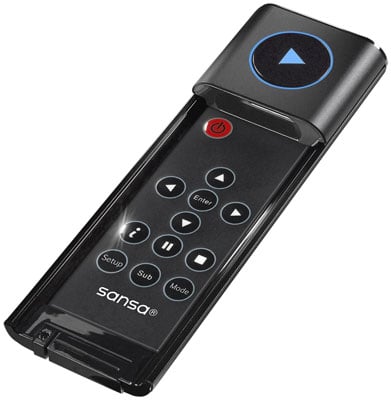 SanDisk's Sansa TakeTV: remotely controlled...
The gadget is the Sansa TakeTV, a Flash-based unit with a compact remote control, a choice of 4GB or 8GB of local storage - for up to five and ten hours' US-format standard definition content at 1.5Mbps, respectively - and a docking cradle with integrated TV cable with component-, s- and composite-video ports.
SanDisk said the device connects to Windows PCs, Macs and even Linux boxes to grab downloaded content and, where possible, store it locally for computer-free access. The limited storage capacity - Apple TV by contrast comes with a choice of 40GB or 160GB of hard drive space - means the TakeTV is limited to PAL and NTSC standard-definition content. In other words, resolutions of up to 720 x 576 and bit rates of up to 7Mbps. It supports 4:3 and 16:9 aspect ratios.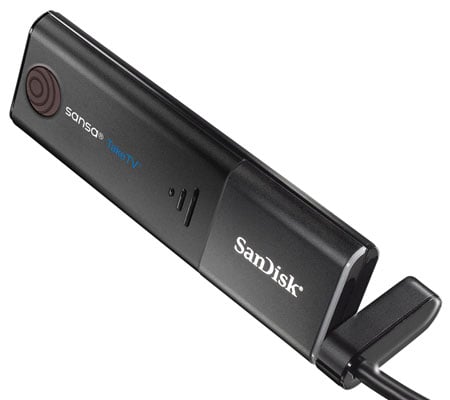 ...and ready to connect to your telly
Unlike Apple TV, the TakeTV supports popular online video format DivX and its open source equivalent, xVid. It also supports MPEG 4.
But where Apple TV is networkable, the TakeTV is essentially just a glorified MP3 player: you connect it to your computer, copy over content, then take the player and slip it into its TV-connected cradle. That, said SanDisk, makes its product considerably easier to use.
The 8GB TakeTV costs $150 (£73/€105), the 4GB unit $100 (£49/€70).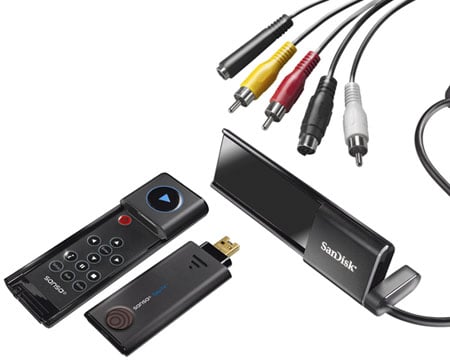 All the bits
TakeTV is the first flowering of the USB-for-TV concept SanDisk announced at the US Consumer Electronics Show last January, though that scheme calls for TV makers to equip their sets with USB ports.
Alongside TakeTV, SanDisk opened Fanfare a web-based video store with content from the likes of CBS, Weather Channel and Showtime Networks. That means programmes like CSI, Survivor China, Dexter and Sleeper Cell are available now to US-based downloaders free of charge, though SanDisk said "premium content" might come at a charge in the future.
Fanfare requires a software download - the content is DRM'd, natch - and it's Windows only.