Common knowledge dictates that fashion comes in cycles. That rule applies inside Sun Microsystems, although one could argue they're spinning in their own separate mobius when it comes to workstations.
Hey, remember Intel? Sun just did.
Sun announced today it will release its first Intel-based workstation since the late 1980s**.
The new Sun Ultra 24 Workstation is a single socket machine based on Intel's Garlow platform and, according to Sun, made for users that do some hard core technical design work.
The new workstation line will support Intel Core2 Duo, Core2 Quad and Core2 Quad Extreme processors up to 3.0Ghz. It holds up to 8GB of unbuffered DDR2-667 memory and up to 3TB of internal disk storage.
As well as its first Intel-based system in recent memory, this is Sun's first quad core workstation to hit the streets.
For graphics cards, the Ultra 24 uses high performance NVIDIA Quadro FX GPUs, and has two PCI-Express Gen 2 graphics slots.
Sun will release the boxes in a couple of standard configurations, which we will describe through the magic of bullets:
$995: Intel Core2 Duo E4400 2.0Ghz, 512MB memory and Nvidia NVS290 graphics card.
$1,445: Intel Core 2 Quad Q6600 2.4Ghz, 1GB memory and NVS290 graphics card.
$1,835: Intel Core2 Duo E6850 3.0Ghz, 1GB memory and Nvidia FX 1700 graphics card.
$2,335: Intel Core2 Quad Extreme QX6850 3.0Ghz, 2GB memory and NVS290 graphics.
Each config comes with one 250GB SATA HDD, a DVD-ROM drive, a 10/100/1000 BaseT Ethernet port, two 1394 Fireware, six USB2.0 ports, 2 full-length PCI slots, 4 PCI-Express slots, and a Solaris license. Solaris 10 and Sun Development tools are pre-installed.
While Solaris 10 is the OS shipped, Sun said the system supports Windows XP, Vista, 2003 server and Red Hat. Sun said talks are underway to add Ubuntu to that list.
According to Brian Healy, Sun workstation marketing manager, the company sees the systems selling to the likes of software developers, the financial sector and visualization users at oil and gas companies. He said that he's particularly pleased by the system's price-point, which should help Sun carve out a chunk of the Intel workstation market.
Healy continued that internal benchmarking has the systems set to "break eight world records", although take that with a grain of salt - as there's trouble in every inch of that kind of statement.
More details on the systems are available at Sun's Ultra 24 website.
In the meantime, we'll share some pictures of the system: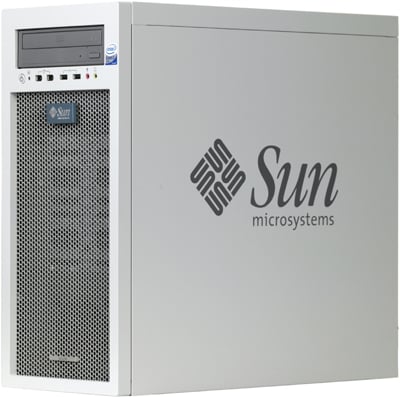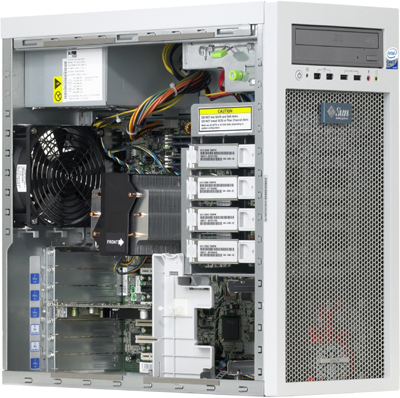 **In the '80s Sun briefly marketed an Intel 80386-based machine, the Sun386i, designed to run SunOS and support DOS applications. But hey, we probably all did crazy stuff back then.