US consumers bought almost twice as many Blu-ray Discs than HD DVDs in the first nine months of 2007, trade title Home Media Magazine has claimed.
Some 1.4m HD DVDs were sold in States from the beginning of January through to the end of September. In the same period, consumers bought 2.6m BDs, HMM subsidiary Home Media Research said by way of the Reuters news agency.
That 2:1 sales ratio is pretty much where the two formats were back in July, when HMM reported first-half sales of 1.6m BDs and 795,000 HD DVDs.
However, the figures are not good news for either format.
Looking back over HMM's cumulative three-, six- and now nine-month sales totals, we can see how each format performed on a quarter-by-quarter basis. Both formats showed significant growth between Q1 and Q2, driven by lower HD DVD player prices, better availability of BD players and growing PlayStation 3 sales, we'd say.
US 2007 hi-def disc sales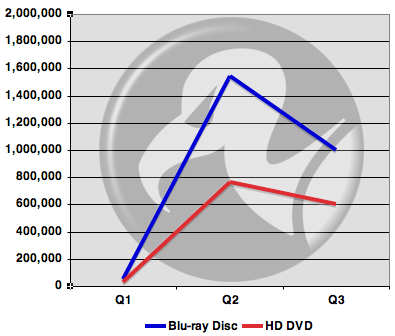 Source: Home Media Research, Register Hardware
However, during the summer quarter, sales of both formats slipped by big margins, despite the launch of high-profile title 300 at the end of July.
BD sales dropped the furthest in Q3, but then the format had much further to fall from. Still, if the trend continues, it's hard to see the format's sales nearing those of HD DVD.
But will the trend continue? This month's HD DVD-only release of Transformers will, as we reported yesterday, give a big boost to the Toshiba-backed format. You can add at least 190,000 to the HD DVD Q4 total from Transformers' first week on sale.
We're also moving toward the US Thanksgiving and Christmas sales period, which will surely benefit both formats. HD DVD players are at all-time low prices, and while standalone BD players remain expensive in comparison, more are coming to market. And next month Sony will release its $399 40GB PS3.