NASA sats snap California wildfires
Dramatic pics capture scale of inferno
---
While Southern California's firefighters battle to contain the wildfires which have provoked the mass evacuation of 500,000 people, killed at least one, and destroyed around 1,300 homes and businesses, NASA satellites have being doing their bit to record aerial views of the drama for posterity: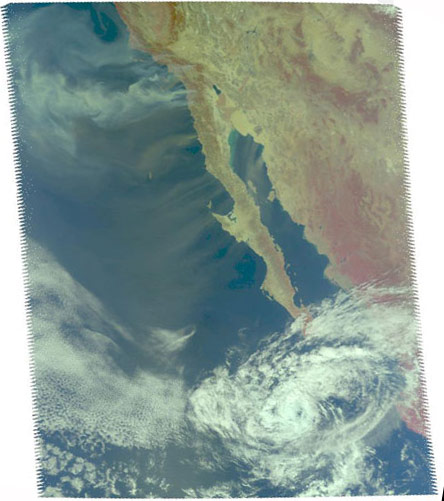 The blurb explains:
Smoke from multiple wildfires burning in Southern California, together with dust in Southern California, Baja California and mainland Mexico, swirl out into the Pacific and Gulf of California, respectively, in this false-colour visible image from the Atmospheric Infrared Sounder on NASA's Aqua satellite, acquired at about 7pm Eastern Time on 22 October. Strong Santa Ana winds are fanning the wildfires, among the most destructive in recent memory.
NASA also has an image which "depicts the wind speed and direction of the strong winds blowing offshore from Southern and Baja California" captured by its QuikScat satellite.
QuikScat carries a "SeaWinds scatterometer, a specialised microwave radar that measures near-surface wind speed and direction under all weather and cloud conditions over the Earth's oceans".
More on the above pics and further updates are available here. ®