This article is more than 1 year old
Hypersonic hydrogen airliner to bitchslap Concorde
€10bn* funding could bring two hour London-Sydney flights
The European Union (EU) has agreed further funding for a European civil hypersonics project whose goal is to achieve passenger flights from Brussels to Sydney in "two to four hours", at speeds of Mach 4 to 8. The now-retired Concorde was capable of only a little better than Mach 2.
The first phase of the so-called Long-term Advanced Propulsion Concepts And Technologies (LAPCAT**) scheme winds up early next year. LAPCAT I is run by the European Space Agency (ESA) which is separate from the EU. However, €4bn* of its €7bn* cost is funded by Brussels.
One of the participating LAPCAT organisations is British firm Reaction Engines, which has put together design studies for a proposed hydrogen-fuelled hypersonic airliner catchily dubbed "Configuration A2". The A2 would be powered by Scimitar engines, a modified version of Reaction Engines' previous plans for a Single-Stage-to-Orbit reuseable spaceplane drive called Sabre.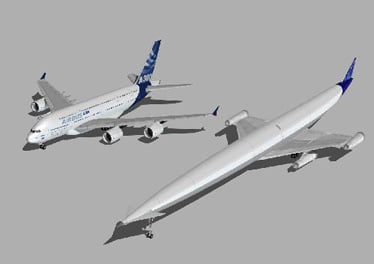 The planned A2 for 300 biz-class, next to today's 800-seat
Airbus A380 cattle-hauler.
The company describes this technology as "essentially a... rocket engine with an additional precooled turbo-compressor". Reaction Engines reckon the use of almost-liquefied air from the turbo will allow Scimitar/Sabre propulsion to operate without onboard liquid oxygen up to Mach 5.5. Unlike a ramjet or scramjet, this kind of engine can fire up happily while stationary on the runway, too, removing the need for a separate booster to get up to ignition speed.
The airliner-optimised Scimitar job would also feature a special high-bypass mode, allowing it to operate fuel-efficiently at subsonic speeds. This would permit the economic use of longer overland routes, something which Concorde couldn't really do.
"Unlike Concorde," quoth Reaction Engines, "the A2 vehicle has exceptional range (approx 20,000 km both subsonic and supersonic) and is therefore able to service a large number of routes whilst simultaneously avoiding supersonic overflight of populated areas. Its good subsonic performance enables it to service conventional subsonic overland routes..."
The firm's engineers calculate that an A2 hyperairliner would be able to haul 300 passengers to Sydney in 4.6 hours, going subsonic where it passed over land but cruising at better than Mach 5 most of the way. The price would be about that of a normal business class ticket, they say, assuming that the hydrogen fuel was produced using electrolysis. (You want this, because the process is totally clean of itself - though the electricity of course may not be cleanly generated.)
Normal industrial hydrogen made by steam reforming with natural gas would provide considerably cheaper tickets, but this process involves throwing huge amounts of carbon into the atmosphere - it would probably be worse in this respect than using ordinary airliners, not to mention current European/Russian political issues around gas supplies.
But Reaction Engines reckon that pricey electrolysis-hydrogen hypersonic tickets would find a good market.
"In principle the A2 vehicle could capture all of the current business and first class traffic due to the greatly reduced journey time," says the firm.
It seems that the mandarins of Brussels agree, as Flight International reports today that LAPCAT II will kick off in a year's time with €10bn* of funding, though it didn't say how much of this comes from Brussels and how much from other channels. ®
*Oops. For billion read million. It is only a design study.
**Sheesh. You might as well have called it CHUTNEY (Civil Hypersonic Useful Technology Not Employable Yet).