Pure Digital Evoke 1S DAB digital radio
A DAB hand?
---
Review Going back a few years, Pure Digital's parent company, Imagination Technologies, only made chips and wasn't involved in the manufacture of radios in any way. So to come as far as the company has in such a short period of time is surely testament to its ability to deliver desirable and reliable products.
To our mind, a good radio should need as little adjustment and interference as possible. Once it's set-up, it should be able to get on with its job with the minimum of fuss.
The third generation of Pure's most successful model does just that. From the reassuring solidness of the Evoke 1-S when it first comes out of the box, to the more advanced - but simple to use - features, the radio proves to be both easy to use and of high quality.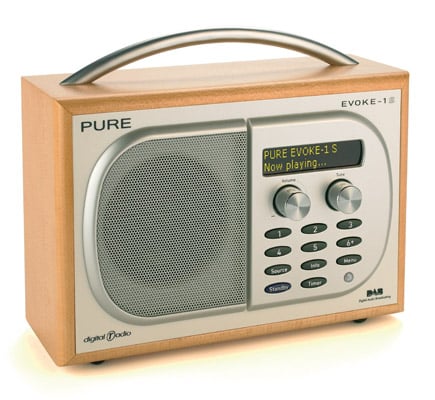 Pure's Evoke 1S: available in maple...
For a sub-£100 product, the machine is built well. Tiny things that matter, like the solidness of the little rubber feet on the bottom of the radio, have all benefited from close attention. We've seen other radios for the same price where the feet have fallen off after a short while as a result of the cheap adhesive used.
Turn the Evoke 1S on and it leaps straight into its stride, before you can say, "I hate Chris Moyles", the time is stored and the set begins its search for stations. And it does it well too. This little radio picked up as many stations as a much higher-end separates deck that we'd set up in the same location. The decent-sized aerial helps here. A total of 30 stations can be stored, some DAB, others FM.
The other thing that's also immediately obvious is the brightness and clarity of the display. We were testing the unit in a bright office, and the screen was very easy to read even when there was a lot of information scrolling across.
This is down to the OLED (Organic Light Emitting Diode) display, which in addition to consuming less power than a traditional LCD, also adjusts itself to the ambient light conditions to make the screen easier to read. The unit also comes with TextScan and Intellitext. The former is initiated by pressing the Tune button whilst station-transmitted text is scrolling across the screen. This pauses the flow so you can note down a competition address, phone number or date of a live gig, say.