Robo Developer Right now, commercial robot builders are planning to invade our homes with their mechanical creations.
But first they'll need us to invite them in.
"Robotics today is comparable to computers in the '70s," appears to be a popular mantra for the developers' market space enthusiasm. The analogy has already popped up several times today at the Robo Developer conference in San Jose.
Robo Developer is a gathering of companies and technical professionals who build commercially viable robotics. Beyond the cradle of academic grant money funding football playing robo-pooches and battle-bots is an area still in its infancy — and with a burning question: How do you sell a robot to to the average consumer?
The '70s computer market analogy seems apt enough to describe the present state of robotics. Like early computers, today's robots are generally expensive, clunky, proprietary, have too much complexity, and isolated from human interaction.
But with the modern maturation of robot technology such as software, sensors, microprocessors, micromechanics, and their subsequent drop in price, the promise of a robotic age could become a reality sooner than you might expect.
There's a serious hurdle, however. Robot makers need a killer app. Computers had spreadsheets and word processing to transform them from industrial curios to household necessities. Robots need to follow suit.
Bad robot day
"When you get home and your internet connection isn't working — that's a bad day," said Paolo Pirjanian, CEO of Evolution Robotics. "We have to create a robot that is irreplaceable like that."
Short of that goal, Pirjanian believes the next step of the robotics industry is integration. He sees the current market less like early PCs than the consumer electronics market at large.
"Robotics technology will be embedded in our lives like the microchip," said Pirjanian. In the same way chips are embedded in watches, cell phones and even toasters, robots will become a part of the products we use today. Self-parking cars are a great example of this, he said. Robotic development will flourish through specialization first. Most robotic products today cannot afford general purpose computing, he said. Products must be optimized for function and cost. This will bring money into the industry — R2D2 will have to be much further down the road.
Tandy Trower, general manager of Microsoft Robotics Group sees multipurpose robots coming much sooner than that.
He brought out a University of Massachusetts project, the uBot, to show off the latest in robo design. Little uBot wheeled around the stage a bit — it's obviously an impressive piece of machinery, but it's not terribly clear what kind of application it could be used for other than impressing friends and family.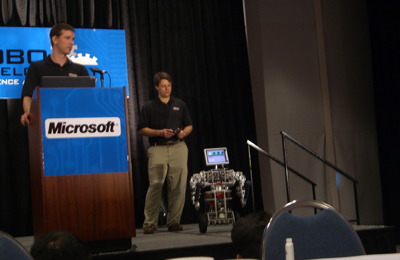 uBot is the short one
You can see the uBot doing more interesting things like playing with children and throwing a baseball here.
But family might be close to the mark. Trower said Microsoft is particularly interested in robots assisting the elderly. Not only is the market open, but can be applied sooner than others.
"This is an area consumers will be willing to pay a bit more for."
According to Trower, the personal robotics market is posed for growth, but not quite ready yet. Opportunities are emerging, but he arrives at the same stumbling block: a killer app.
"Actually, I don't like to say 'killer applications' in the robot industry — so let's just say we need 'compelling applications."
Fair enough, Trower. But let's not pretend Microsoft isn't building an army of killbots as we speak. ®