This article is more than 1 year old
Astronauts ride robotic arms into space
ISS spacewalk under way
The crew of the space shuttle Discovery have wasted no time and are already hard at work extending the International Space Station (ISS).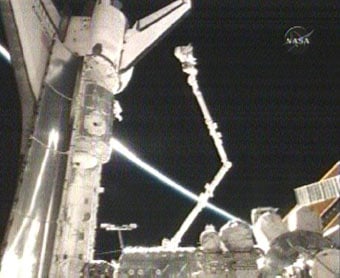 An astronaut on the end of a robotic arm. Credit: NASA TV
Mission specialists Scott Parazynski and Doug Wheelock started the first spacewalk just after 6am, Eastern US time. The schedule calls for the pair to be back inside in time for lunch, just after 12:30.
On the to-do list for today's spacewalk is the preparation of the Harmony module for removal from Discovery's cargo bay. The spacewalkers are being assisted by fellow mission specialists Stephanie Wilson and Clay Anderson, who along with flight engineer Daniel Tani, are manning the controls of the space station's robotic arm.
The arm will be used to coax Harmony from the Shuttle and into position on Unity. Meanwhile, NASA says, the spacewalkers are also getting the P6 section of truss ready to be moved. ®