This article is more than 1 year old
Data recovery firm sounds Mac hard drive damage alert
'Critical' flaw with China-made HDDs?
Updated Data recovery company Retrodata has challenged Apple to come clean about what it claims is a "critical manufacturing flaw" affecting some hard drives used in MacBook laptops and desktops like the Mac Mini - an issue that could result in data loss.
According to Retrodata, its customers have sent in a much higher number of failed Seagate 2.5in SATA drives made in China and loaded with firmware version 7.01 than of any other current hard drive model.
"We're getting 20-30 times more failed drives of this kind than others," Retrodata chief Duncan Clarke told Register Hardware.
The drives of this kind sent to Retrodata for data recovery exhibited the same damage: the read/write heads have failed mechanically causing them to gouge deep scratches in the delicate data-storing surface of the disk platters. In almost all cases, this renders the drive useless.
And the drives in question all came from Apple machines, Clarke claimed. Retrodata only gets the drives, not the host computers, so Clarke couldn't specify exactly which Macs they came from, but since they're all 2.5in models, that suggests not only laptops like the MacBook and MacBook Pro, but also potentially desktop Macs that use laptop-oriented components, like the Mac Mini.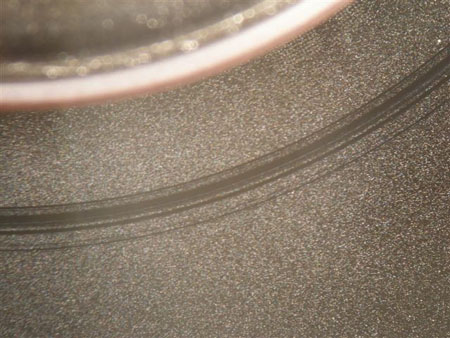 Damage to the disk surface
Clarke blamed the problem what he described as "poor quality control in Chinese hard drive factories" - an issue he maintained affects other hard drive makers in addition to Seagate. He also warned all hard drive buyers to avoid HDDs manufactured in China.
"We believe that any sizeable manufacturer would by this stage be aware of such a problem and issue a product recall notice, or an offer to have the drive exchanged for a suitable alternative at their own expense," Clarke added.
Users who find they have such a drive, Clarke said, should back up their data and consider replacing it with "an alternative drive, or a retail-version Seagate drive".
Mac OS X's System Profiler utility provides a way to identify the make and type of HDD installed in a Mac, but not directly its place of origin.
Update System Profiler also shows the HDD's firmware: under the Serial ATA section, look up the Revision entry - that's the firmware version.
Apple and Seagate did not respond to our requests for comment.
A discussion thread on Apple's support site highlights a number of MacBook users who have experienced what appear to be hard drive failures. However, only five cases explicitly identify the failed drive as a Seagate model, and of these none can be stated categorically to be the product of Chinese factories.
Some of the failures are attributable - indirectly - to Mac OS X's Safe Sleep feature. This copies the contents of a laptop's memory to the hard drive whenever the computer is put to sleep.
To be fair to Apple, it does warn users not to move the machine until this process is complete - at which point the light on the lid catch begins to pulsate - but it's easy for users to grab their laptops and go as soon as the lid's down.
Unfortunately, at that point, the drive's heads may by busily moving back and forth across the platters, and any movement risks the two physically touching, with the potential of data loss and even disc damage of the kind described by Retrodata. This is true of all hard disks, as proponents of solid-state storage like to point out.
Mac users can disable Safe Sleep by following Mac OS X Hints' procedure here. However, doing so risks losing data from memory should the laptop's power supply be cut.