Despite investing many millions of dollars into the PS3, Sony thinks the best way of boosting its consoles sales is recolouring the new model's seven-year-old predecessor. So, enter a "limited edition" ceramic white PS2.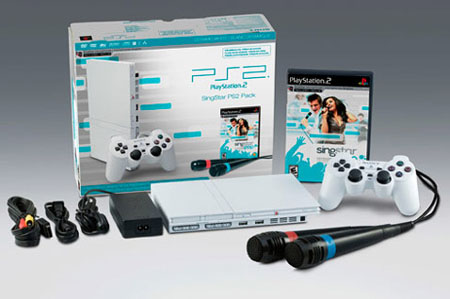 Sony's white PS2 pack: a game and two microphones included
The colour – which is already available in Japan – doesn't mean Sony's changing any of the console's capabilities. However, it will bundle the new PS2 with karaoke title SingStar Pop and two USB-connected microphones.
Initially, the console will appear in the US next month for $160 (£80/€95). But there's no word yet on a European roll-out.
The launch of the colour into the US is no surprise - Sony's currently celebrating the PS2's seventh birthday and hopes to have sold 132m worldwide by March 2008.