Nintendo to fire Wii Zapper into Europe for Xmas
Take aim...
Nintendo's Wii Zapper will be available across Europe in time for Christmas, the company said today.
The white, double-handed, machine gun peripheral will ship on 7 December, bundled with the Link's Crossbow Training game. Additional titles are promised, including Resident Evil: The Umbrella Chronicles.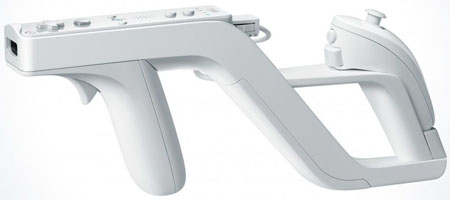 Nintendo's Wii Zapper
Link's Crossbow Training requires players to aim the Wii Zapper – which houses both the Remote and Nunchuck - at on-screen targets. The Nunchuck controls gamers' movements and the Remote's B button, which connects to a trigger, is used for, well, shooting. Different rates of fire are possible too.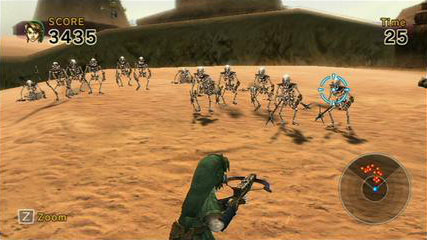 Link's Crossbow Training
The Zapper also relays re-positioning movements, presumably so you can pretend you're lurking around a precarious corner, while the Nunchuck's Z button acts as a zoom.
Various player modes are available, including a multi-player setting letting gamers pass the Zapper around, each shooting for the highest score within a time limit. The perfect wholesome family Christmas entertainment?
The bundle pack will cost around €30 (£20/$40).