This article is more than 1 year old
Sun: MoD has Bond/Potter/Klingon cloaking device
Boffin predicts invisible sheds on market in 5 years
The quality press is awash with invisible-tank stories this morning, as the Daily Mail, Telegraph, Ananova news wire et al pile into an exclusive scoop by the Sun.
It would seem that the Currant Bun scribes have spoken to a squaddie from the Royal Engineers, who claims to have been involved in trials last week featuring a (take your pick) James Bond Die Another Day Aston-Martin / Klingon Bird-of-Prey / Harry Potter's cloak -style tank which can become invisible.
The Sun's informant said:
"This technology is absolutely incredible. If I hadn't been present I wouldn't have believed it. [Thanks, that's very kind of you. Large one please, George.]
"I looked across the fields and just saw grass and trees – but in reality I was staring down the barrel of a tank gun. [Thirsty work, as you can imagine. I'm actually still quite parched ... ah, cheers.]
"It's huge fun working on this wizardry, though. We're used to blowing things up – but making things disappear is pure magic. [Will that do? Great. Oh all right, twist my arm. Bottoms up. Hic. D'you know, I saw an invisible pair of trousers the other day ...]"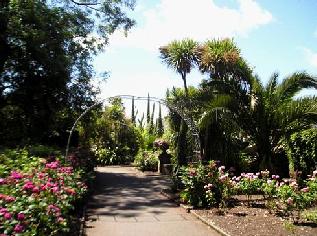 How the invisible shed might look in action.
The next step, of course, was to get some expert analysis. Cue Sir John Pendry, dubbed "the MoD's Q," for the occasion by the Mail, though he normally works at Imperial College. Sir John is well known to be an invisibility expert, as he has done theoretical work on "cloaking devices".
Sir John seemed happy to confirm that the MoD and Qinetiq might be fooling about with cameras and projectors for camouflage purposes, but - naturally enough - was keener to talk about his own research into metamaterials, which could provide a housing or cladding that rendered objects imperceptible to radar.
As for these latest revelations, "the drawback at the moment is the dependence upon cameras and projectors," he apparently told the Sun.
"The next stage is to make the tank invisible without them – which is intricate and complicated, but possible."
Last year he was less sanguine, telling the Beeb:
"You go up to optical radiation - visible light - and ... your microstructure has to be a few tens of nanometres across ... we're only just learning how to do nanotechnology... maybe in five or 10 years' time you could do this ... You mustn't demand that the cloak be too thin. Despite the hype around Harry Potter, this isn't anything that flaps around in the breeze; it's more like a shed."
That sounds a bit more like British boffinry: an invisible shed. Many a harassed family man would like one of those.
But hey - let's say that the MoD and Qinetiq have put together a camera/projector visual camouflage system for tanks. Let's say it works while the tank is moving (it won't, but there).
What on earth's the point of that? Mr. Tank isn't going to be exactly impossible to find, what with the trail of torn-up/crushed landscape, the roaring engines, the huge thermal signature, the immense logistic support effort etc etc.
Still, maybe the kit's actually meant for some other application where it would be some use. Like an invisible shed.®