Digital opportunity
Despite this, digital is the hot topic in China. Due to the under-developed, pirate-dominated physical market and burgeoning mobile environment, China is on track to becoming the world's testing ground for the digital age.
The statistics are pretty staggering, with some suggesting a digital market of US$1.5bn by 2010. With the second largest broadband network in the world, the advent of 3G later in 2007, 460 million mobile users and five million new mobile subscribers a month, who, on face value, would doubt them?
The view from the ground, however, is that all of these statistics need to be taken with a bucket of salt. All attempts by the Chinese government to combat online MP3 piracy, including all public 'victories' against pirates, should be seen as totally superficial – a lip service to the lobbying western majors. Internet MP3 piracy remains endemic, with fewer than 10 per cent (a generous estimate) of downloaders actually paying (average price) 14p/download for the privilege.
Even the big boys are at it, with market leader Service Providers (SPs) like Baidu (over 50 million users per day) openly hosting 'deep links' to pirated tracks and making money through advertising while it's at it.
Legal sites such as Top100 and 9Sky are on the rise, but change will be painfully slow due to a dislike of DRM, lack of will from the government, and a public who have been getting free music off the internet from day one. It is becoming increasingly common for record labels to give away MP3s for free in order to build profile for a track and then profit from where the real money potentially lies, namely Mobile Value-Added Services (MVAS).
While only a tiny percentage of Chinese people own a credit card (thereby making online download purchases difficult), the cash-pre-pay nature of mobiles means there is an established, digital payment system existing between the user and the mobile operators.
This allows for easy purchase of MVAS such as ringtones, caller ringback tones, background music and wallpaper. MVAS generate revenue of over half a billion dollars (US) a year but accounting is far from sturdy - SPs are habitually siphoning off millions of dollars by simply under-declaring sales in what is known as "accounting piracy".
Even the legitimate numbers don't look too rosey at the moment. The breakdown on your average truetone (for example) looks something like this: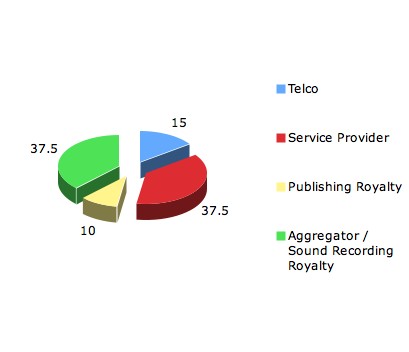 How revenue is split from a ringtone in China (pc)
Fifteen per cent is returned to the telco, and 10 per cent to the publisher. Of the rest, the service provider takes half, with the remaining 37.5 per cent being split between the aggregator and the sound recording rights owner, with the aggregator taking anywhere from 20 to 50 per cent for his troubles. In this example, assuming you have a 50/50 deal with the aggregator, this leaves you with a grand total of 2.6 pence for every ringtone sold.
Micro numbers like this are hard to get excited about, but if the devil is in the detail, then the angel is in the scale. Music and the booming Chinese nation are at the start of a wonderful relationship on a scale that will dwarf any other territory in the world. It's just that no one is making any money out of it - certainly not with conventional, western business models.
A green (rice) field market
China needs to be seen as a blank canvas. While the numbers might suggest it is already going through a "boom" period, this is clearly not the case in relation to the copyright dependent industries. The boom is yet to come and the salient business models are yet to show themselves. What is certain is that the record label as you know it is dead and in its place have risen "digital entertainment companies", who only produce single-track MP3s and are just as savvy at dealing with brand partnerships, pre-loaded mobile content and online guerilla marketing as they are at making music. While all these facets are increasingly important in the west, they are essential in China.
It is increasingly understood that DRM is not the horse to back. The pay-per-download system is also looking shaky and attention is increasingly turning to subscription models. China will be quite a way ahead of the west in turning the corner into this more fluid consumption of digital music.
So while there is no How To Make Money Out Of Music in China handbook yet, I suspect that when it is eventually written, it will be translated into a hundred different languages and ultimately be tucked under the arm of every music industry executive in the west, from London to New York.
© Ed Peto 2007. Ed Peto is a Beijing-based promoter, music consultant and journalist. His website is edpeto.com.