NASA is delaying a risky spacewalk to repair a torn solar wing panel on the International Space Station.
The delay will give Mission Control at Johnson Space Center until Saturday to refine instructions for the unprecedented operation. Discovery crew members will also use the time to improvise repair devices from inside the space station laboratory.
The spacewalk was originally planned for Friday to repair a solar panel that ripped as it was being unfurled earlier this week. The torn solar wing can still provide power, but it poses a structural problem while it remains partially deployed.
NASA has also planned a spacewalk to check a malfunctioning joint today, but the solar wing damage has taken mission priority.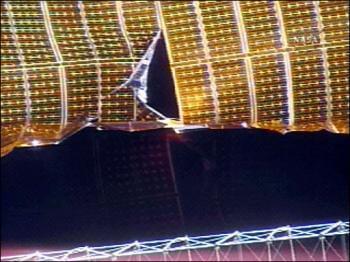 ISS's ripped solar array, image courtesy NASA
The International Space Station's robotic arm will grab the shuttle Discovery's boom extension to ferry veteran spacewalker Scott Parazynski out to the damaged area.
Parazynski will try to untangle a snagged guide wire and stitch the panel with home-made repair devices. NASA said the task may pose additional danger, because significant electric power courses through the arrays. Astronaut Doug Wheelock will accompany Parazynski on the spacewalk.
If the repair is unsuccessful, astronauts will have one more go before Discovery's scheduled undocking on Monday. Should the second attempt fail, the array may be jettisoned from the station.
Discovery's mission was extended an extra day early this week — and may face more delay to deal with the task at hand. The shuttle is currently scheduled to depart on November 5 and touch down in the US on November 7. ®