Without the usual tarantara, Apple has updated its MacBook laptops with faster hardware and some more upgrade options.
The Macbook line will now ship with Intel's Santa Rosa chip set, sporting either a 2.0GHz or 2.2GHz Intel core 2 Duo processor and Intel GMA X3100 graphic processor. They also now include the option to upgrade the standard MacBook's 1GB of 667MHz DDR2 SDRAM with up to 4GB, according to the Apple website.
MacBook Pros are available with with a speedier 2.6GHz CPU for an additional $250. This line was updated with the Santa Rosa chip set back in June.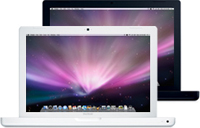 Santa Rosa promoted in Apple canon
All the laptops now have an option to be equipped with hard drives of up to 250GB (spinning at 5400 rpm).
The starting price for the new MacBooks is $1,099 packed with a 2.0GHz Intel Core 2 Duo, 1GB memory and 80GB hard drive. Upgrading the memory to 4GB will run an additional $850.
Macbook Pros start at $1,999 with 2.2GHz Intel Core 2 Duo, 2GB memory, 120GB hard drive and NVIDIA GeForce 8600M GT graphics card. Doubling the memory is $700. ®
Similar topics