Some folk accuse iPhone owners of possessing far more money than sense, but if you've got it, flaunt it, I always say. And if you really want to show off how considerably richer you are than the rest of us, what better than a gold-plated Apple handset?
That's what UK-based specialist phone fixer Amosu is now offering. A payment of £999.99 - direct bank transfer preferred, but suitably fashionable credit cards accepted too, and a suitcase full of fifties always ensures satisfaction - will secure wealthy purchasers an iPhone clad front and back in 24-carat gold.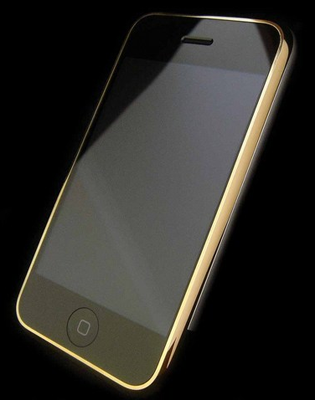 Amosu's gold iPhone: auric one
Amosu claims each phone is "hand made and crafted to perfection", a process that takes at least 2-3 weeks to complete - to which you can add the further week you'll have to wait until the iPhone goes on sale over here.
That's due to take place on Friday, 9 November. It'll be available exclusively on the O2 network, through Apple's own stores, branches of Carphone Warehouse and O2 itself.
The regular, shiny-steel version will cost a £269 - plus £25-55 a month for 18 months - so that's one hefty mark up for gilding Steve Jobs' lily. Croesus alone knows how much Amosu's anticipated diamond-crusted iPhone will cost above and beyond the gold model... Upwards of £20,000, we're told...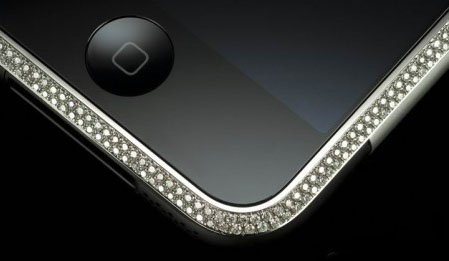 Amosu's diamond iPhone: bling tone
The golden iPhone can be ordered via Amosu's website or requested directly by a personal attendance at Flawless and Co. of New Bond Street, London, which offers "a very hands on and personal jewellery buying experience" for bling-bedazzled buyers.
Love the gold iPhone, but hate the price? The Hardware Widow says, assay these fine shiny yellow examples of tasteless technology: