Sony PS3 narrows gap with Nintendo Wii
Xbox 360 in the ascendant as others fall
---
The PlayStation 3 continued to narrow the sales advantage enjoyed by Nintendo's Wii in Japan last month, a local games magazine publisher has claimed. However, both companies experienced much lower sales than they have in recent months.
During October, Nintendo sold 110,415 Wiis, while Sony shipped 47,183 PS3s, publisher Enterbrain said by way of Reuters. Compare that to the 245,653 Wiis and 81,541 PS3s sold in August, as recorded by Enterbrain at the time.
Microsoft sold 11,288 Xbox 360s in Japan in August, rising to 18,717 in October. It's the only third-generation consoles to have seen a month-on-month sales increase of late, though the gain is small. Still, a small gain is better, perhaps, than the big drops Nintendo and Sony have experienced.
Last month, Enterbrain said Nintendo had shipped 1.6m Wiis in the six months from the beginning of April to the end of September. Sony shipped 385,492 PS3s in the same period. Alas, it didn't break out September's totals, but we'd estimate 175,000 Wiis and 60,000 PS3s if the August-October decline is linear. Those estimates give us approximate figures for April, thanks to Enterbrain's totals.
Japan's third-gen console sales: April-October 2007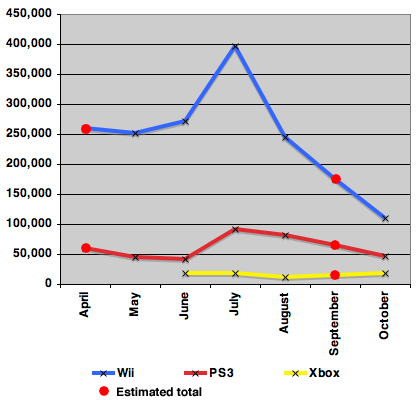 Source: Enterbrain, Register Hardware
In October, both Microsoft and Sony cut the prices of their consoles, and while that may have helped the US software giant a little, we'd say Halo 3 did it more good. The game certainly helped in the US, where the 360 outsold the Wii in September.
However, November will be the crucial month, not only because of ramping pre-Christmas sales, but because of the arrival of the 40GB PS3 on 11 November. Have Japanese buyers been holding back, awaiting the cheaper machine? Will it be enough to dent demand for the Wii?
We await Enterbrain's November totals with interest.