This article is more than 1 year old
Living with robots: The $3.5m DARPA Urban Challenge
The race is on
9:05 a.m.
All 11 teams got away successfully and have performed well throughout the first hour of the course.
Seeing these vehicles live proves remarkable even for a cynic like me. Some of the vehicles have been tearing down the road and negotiating sharp turns with ease. They've also met head-to-head on the track and passed the tests.
Even more, the cars know when they're able to pass another car. They also know how to advance in order at a four-way stop with indicators on and all.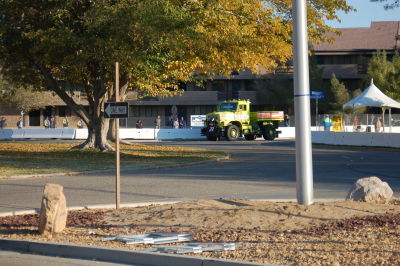 Giant TerraMax from afar
I shocked at how accepting the observers are of the technology. The massive TerraMax system has come ripping by corners a couple of times with only a fence and a wee barricade separating it from the people yet no one even seems to flinch.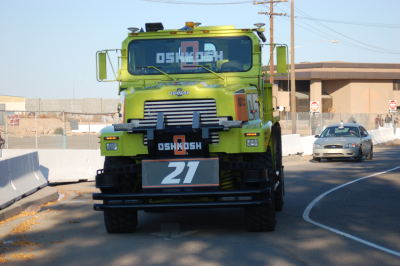 It's coming right for us
There have been a couple moments when the cars struggled with a lane change and started heading toward barriers. But all of the vehicles so far have managed to assess the situation after some time and continue moving.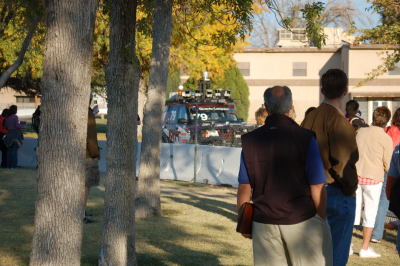 MIT vs. Man
Gear heads out there might be interested to know that the MIT team has a full on server cluster inside its machine. It requires a massive air conditioning unit to keep the hardware cool.
9:35 a.m. About 15 minutes after the last post, some of the vehicles started to struggle. One went off road. TerraMax almost took out a building pillar.
And now we're hearing that three of the vehicles have been booted from the race. Team AnnieWay from Germany is done. We're waiting to hear on the other two.
9:44 Ouch. TerraMax was one of the booted teams. It's the crowd favorite and the most unique looking vehicle in this year's competition. It's also DARPA's favorite, since OshKosh - the maker's of the vehicle - have used a military rig for their design. A larger version of TerraMax was also one of five to complete the 2005 race. Disappointment all around.
The Honeywell/IVS bot is out as well.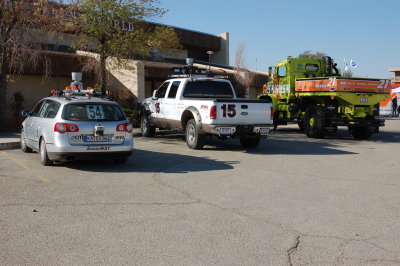 The pain of defeat
11:12 a.m. Five vehicles have been kicked off the course now, and six have all completed mission one. TeamUCF and CarOLO - another German team - are the ones sent off.
Now let's have a closer look at some of the remaining vehicles in action.