This article is more than 1 year old
Living with robots: The $3.5m DARPA Urban Challenge
The race is on
11:22
I've been out to a number of the viewing points provided for the media. DARPA lets us peek in on four-way intersections with stops, straightaways and some other choice locales.
One striking thing is the out of nowhere trouble the more sophisticated cars can have on easier parts of the course.
Here's the Cornell vehicle, which got stuck for no apparent reason.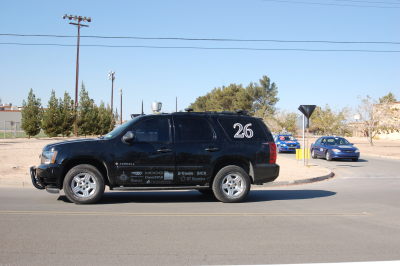 Cornell paused
It would just keep stopping and starting, moving only an inch or two at a time. This went on for about 15 minutes before DARPA allowed team members to drive onto the course and reset the vehicle. I'm confused as to why TerraMax was not afforded the same courtesy.
Stanford's vehicle Junior - in the second position here with manned vehicles all around it - had to wait patiently while the issues with Team Cornell were taken care of.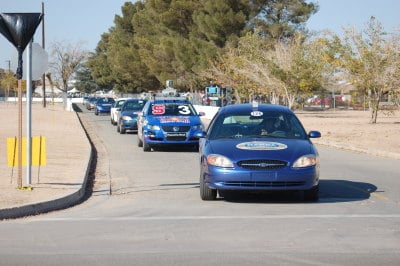 Cornell holds back Stanford
Junior just kept its indicator on like a good driver until it got its turn.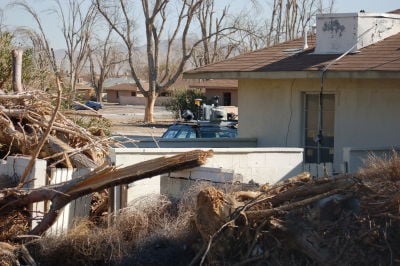 House Ouch
Meanwhile, Team UCF got stuck after almost running into the side of a house here on the retired base. The military uses these crashed out pads for training.
11:51 One of the commenters below made note of DARPA's mind-bending $21m price tag for fixing up this event site.
The reporter next to me remarked, "I've seen county fairs that were better prepared and more impressive than this." And he's right. There's not even a funnel cake booth here.
What's also amusing is all the DARPA propaganda that gets repeated over and over again. Director Anthony Tether receives credit for "bringing his dream to fruition" and personally guiding this stunning event.
Seriously though, and I don't say this lightly, I've never met a single person with anything positive to say about Tether. Most people give Carnegie Mellon prof Red Whittaker credit for pushing this concept forward. They also say Tether gets obsessed with minor details and constantly steps on peoples' toes. Even those inside of DARPA tell me he is "unbearable," while another reporter described him as "a little Stalin."
But, if you believe the hype, Tether is the world's leading robot expert.
And now to more trouble.