Yahoo! Unveils! Another! Social! Networking! Also-Ran!
Kick-starts Kickstart
---
Yahoo! has launched another social networking service that few people are likely to use.
Yesterday, the behind-the-times web portal unveiled something called Y! Kickstart, a service aimed at youngsters struggling to make a go of it in the real world.
"Yahoo! realized that new graduates and college students were in dire need of a way to build a professional network, but that existing solutions were either too tailored to seasoned professionals, or too geared towards communicating and keeping in touch with friends," a company spokeswoman told us. "Kickstart is a professional network designed to meet that need through a community of college students, recent grads, professionals, and alumni."
So the company thinks it's found a niche between LinkedIn and Facebook. It's taken LinkedIn-style business networking and applied it to the social-networking-obsessed youngsters who've fallen head over heels for Facebook.
Yes, Facebook is now open to internet users of all ages, bridging the student and business worlds, but Yahoo! is sure that it's ill-suited to post-college job hunting. "College students are amazingly well networked on Facebook," reads a blog post from Scott Gatz, Yahoo! senior director of advanced products, "but that network is about connecting with friends and is more appropriate for fun - in fact many students we talked to expressed frustration that 'old folks' were coming onto Facebook and forcing them to lock down their profiles or worse yet - clean up their act."

Yes, it's called Y! Kickstart.
You can believe this argument if you like, but we can't see that many youngsters using Kickstart alongside Facebook - and whatever other services they're already obsessed with. The market is ridiculously crowded as it is - as Yahoo! learned with its previous attempt at social networking, the failed Yahoo! 360.
Clearly, Yahoo! isn't afraid to fail again. Kickstart follows the arrival of another post-360 Yahoo! social networking service: Mash, which is now in beta. "Social media and networks are an emerging space that will continue to evolve in the coming years," that spokeswoman told us. "As such, Yahoo! is continually testing services in the market, and monitoring customer responses."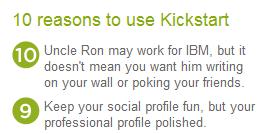 Yes, Yahoo! thinks Facebook is trivial.
At the moment, Kickstart is in "preview mode," as Yahoo! attempts to coax those "professionals and alumni" to sign up for the service. You see, the college kids aren't going to join unless they know they'll meet someone who can get them a job. Yahoo! says it will donate $25,000 to the university that signs up the most alumni.
Will the new service run social networking apps built with Google's new OpenSocial APIs? Who knows. Yahoo! has yet to join the OpenSocial movement, and when we asked the company whether it planned on joining, it gave us several paragraphs of stuff like this: "As a company, we support industry efforts to form standards bodies that drive and govern the development of common standards. We believe these types of efforts are beneficial to the industry as a whole and are committed to embracing standards that are valuable to the developer community."
Of course, OpenSocial is a meager attempt to combat Facebook's web app API, Facebook Platform. So it really doesn't matter if Yahoo! joins the movement or not. The bottom line is that Kickstart is an also-ran. ®