Canon Ixus 860 IS compact camera
Another hit from Canon?
---
The movie mode menu includes options for compressing the image size and using time lapse – one- or two-second intervals can be selected. Manual mode gives choices for adjusting exposure compensation, colours, white balance and metering (evaluative, centre weighted or spot). Tweakers will love the 860 IS, but for users who simply like to set their camera to auto, the camera will work well for most shooting situations.
Sample shots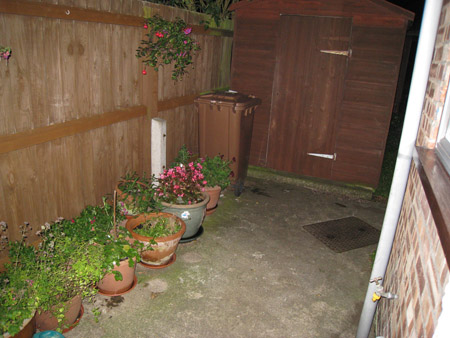 The Ixus 860 copes well under low light conditions - this was shot in a backyard at night
Click for full-size version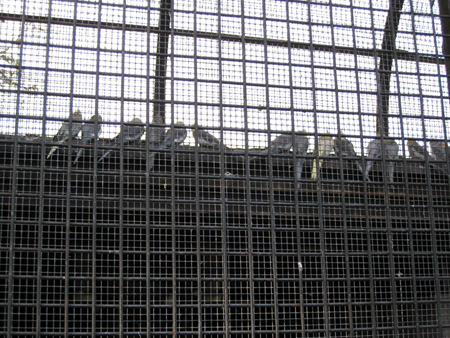 The auto-focus coped well, even with this image of birds behind a double layer of wire mesh
Click for full-size version
So is the 860 IS' beauty only skin deep? Not a bit. Overall, we were very impressed. Picture quality - as you can see from the sample shots above - was superb: sharp, bright, detailed, with excellent contrast and colour. The auto-focus system worked well, even when presented with tricky situations like shooting through the fine mesh of a bird cage. Mind you, sometimes it needed to pause and scratch its head a bit before it was ready to go.
The face-detection system can lock on to nine faces at a time and was rarely fooled in our tests. Image stabilisation does help remove blurring when shooting with a long zoom, although to be honest, even when stablisation is switched off, the 860 IS is pretty forgiving when it comes to camera shake. The 28mm lens setting was ideal for landscape shots and the widescreen mode setting was great for viewing images on, yes, a widescreen TV.
We also liked the panoramic stitching feature, which lets you link up to 26 shots together to create super-wide images. It's a simple system to use, and Canon also provides the software for stitching them on a PC screen.
Shots taken with the macro setting were also superb. One of our favourite program modes was Aquarium, great for taking snaps through glass. We were also pleasantly surprised by the digital zoom performance, which gave creditable results. The camera coped well under low-light shooting and the movie - VGA-quality (320 x 240) at 30fps - and sound recording - up to CD quality - modes were impressive.
Verdict
No camera is perfect, and Canon's Ixus 860 IS is no exception. We felt that the menu selection system was a little too sensitive at times: it was very easy to inadvertently make an adjustment we didn't want – but a swine to revert back to the original setting. We also weren't that keen on the zoom control, which is basically a small metal stub. The red-eye reduction system wasn't great and still made many of our subjects look like extras in a horror movie. Canon says the battery is good for around 270 shots, but we found that around 200-220 was closer to reality. Still, we liked it. It looks smart, works well in most shooting situations and has a good selection of features.

Canon Ixus 860 IS compact camera
A good all rounder that can produce stunning pictures. Yup, it seems Canon really can..