IBM has teased with scant details of its long-awaited updates to AIX and its Power6-based blade server line — but today the specs have dribbled out of Big Blue at last.
The first blade running on the dual core Power6 is named JS22 Express. Let's poke around:
Form factor: A single-wide blade for BladeCenter S, BladeCenter H or BladeCenter HT chassis.
Processor: Four 64-bit 4.0GHz Power6 processors, with 4MB of Level 2 cache per processor core.
Processor-to-memory bandwidth peak is 21.3 GB/s and internal I/O bandwidth peak is 5.8GB/s.
Memory: 4GB (2 x 2GB), up to 32GB max per blade — with four DIMM slots, ECC Chipkill DDR2 SDRAM at 667MHz (1,2,4GB DIMMs) or 533MHz (8GB DIMMs).
Storage: One 73GB or 146GB 2.5" SAS, at 10k rpm (non-hot-swappable)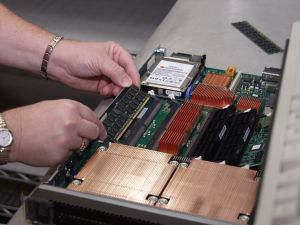 Why hello there.
Networking: Integrated P5IOC2 controller with two Host Ethernet adapters. Support for optional dual gigabit Ethernet daughter card.
Optional connectivity is 4Gb/s Fibre Channel, 1 or 10 Gigabit Ethernet, 1x or 4x Infiniband, iSCSI Expansion Card and Myrinet
More I/O plz: PCI Express connector for high-speed daughter cards. Integrated connector for legacy daughter cards.
Operating system support: AIX v5.3 or later, SUSE Linux Enterprise Server 10, Red Hat Enterprise Linux.
The JS22 Express is listed at $10,363.
A base JS22 system has four 4GHz cores (activated), 8GB of main memory and no disk drives. It's listed at $6,699 and will be available November 30. ®