This article is more than 1 year old
BAE in South Coast mouse-click drone spy plan
There'll be ro-birds over the white cliffs of Dover
BAE Systems, the multinational arms mammoth, has announced a new vision for a south coast of England patrolled by fleets of autonomous robot sky-eyes.
The plan, called the South Coast Partnership, would see self-piloting drone aircraft deployed above the white cliffs of Dover in just five years.
"From 2012 fully autonomous unmanned air systems could be routinely used by border agencies, the police and other government bodies," said BAE's Andrew Mellors, Head of Civil Autonomous Systems.
"These systems will be fully autonomous so that operators task the vehicles and receive the relevant imagery and intelligence direct to the ground control station in real time."
Mellors was speaking at the Police Aviation Conference 2007, currently underway at the Hague.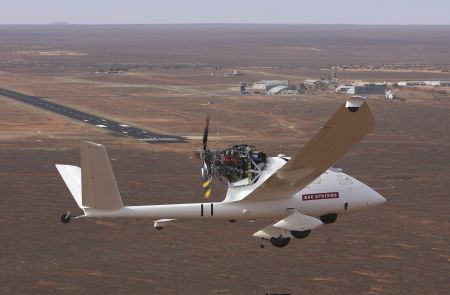 Takes off and lands "at the click of a mouse".
BAE believes that 2012 is the earliest date at which serious unmanned air vehicles will be allowed to operate within UK controlled airspace. Certain British police forces have already trialled small remote-controlled drones, and the US Customs and Border Patrol uses large, capable Predator-Bs. However, these aircraft need trained pilots just as ordinary aircraft do.
BAE believes that fully-autonomous aircraft, needing no trained pilots, will allow a serious reduction in operating costs. Under the South coast Partnership, the firm will seek to sell its autonomous aircraft tech to partners including Kent Police, Essex Police and the Border and Immigration Agency.
The company has such aircraft available already, in the form of the HERTI unmanned mini-plane. BAE announced on Tuesday that the HERTI had been deployed operationally with the RAF in Afghanistan this summer, and that the air force were overjoyed with it.
The HERTI can apparently "take off, complete a full mission and land – all at the click of a computer mouse," unlike the US Air Force Reaper - also in RAF service - which usually requires a pilot at its base to handle landing and takeoff and another in America to fly the mission by satellite remote control. In air force service these are all expensive wings-on-chest officers.
Truly pilotless planes could be very popular with police and customs forces, which aren't run by pilots. Just how popular they might genuinely be with the RAF is another matter.
It was announced this morning that Air Chief Marshal Sir Glenn Torpy, head of the RAF, had awarded a technology prize to a group of schoolchildren who had designed a solar-powered unamanned drone. The marshal said, bitterly:
"As a pilot I could not help noting their design is for an unmanned air vehicle... the future RAF will have a balanced mix of manned and unmanned aircraft." ®