The Champions heads for the silver screen
Guillermo del Toro to direct celluloid adaptation
---
Guillermo del Toro - director of acclaimed Pan's Labyrinth - is on board to take the helm of a celluloid adaptation of UK cult classic The Champions, the BBC reports.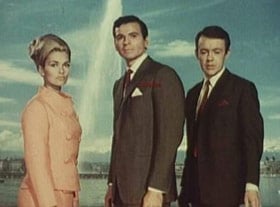 Those of you who remember when it was all fields round here will doubtless recall how the minxacious Alexandra Bastedo (playing Sharron Macready) got teen pulses racing while gadding about with Stuart Damon (as Craig Stirling) and William Gaunt (as Richard Barrett) as "Operators of the International Agency, Nemesis!".
Of course, they were helped in their work by quite remarkable powers bestowed by an "advanced Himalyan civilisation". Among these was the ability to communicate telepathically, although mercifully Bastedo showed no signs of being able to read adolescent viewers' minds.
The show ran from September 1968 to April 1969, clocking up 30 episodes. The excellent title music was penned by Tony Hatch, of Crossroads and Neighbours fame.
The film is in the early stages of planning while del Toro is working on Hellboy 2: The Golden Army. That means fans of The Champions have plenty of time to make their feelings known as to who should play Sharron Macready.
And while you're pondering that, rest assured that whatever del Toro does with The Champions, it can't possibly be any worse than Hollywood's take on that other Brit TV classic - The Avengers ®.