This article is more than 1 year old
Ukrainian eBay scam turns Down Syndrome man into cash machine
'How a mule made an ass of me'
Exclusive In late September, Mark Hartman received an email from eBay's Trust and Safety department informing him that his bid on a high-end road bike had been canceled because the auction was suspected to be fraudulent. There was only one problem: He had already mailed a cashiers check for for more than $1,500 to a man 2,300 miles away.
"I had a sinking feeling after I got the email that if I didn't intercept [the check] in this person's hands I'd never see it again," said Hartman, who lives in Sammamish, Washington. "I'm the type of person who does not like to be duped."
Hartman soon realized he was on the losing end of a scam that plays out regularly at the online auction house. In it, eBay accounts with immaculate user feedback scores are hijacked by overseas con artists who figure out a way to crack the user's password. The scammers then fleece unsuspecting buyers with sham auctions for cars, exercise equipment and other pricey merchandise.
Frequently, there is little victims can do once they realize they've been cheated. After all, eBay takes no responsibility for most transactions unless they are paid using PayPal. What's more, the masterminds of the scam are usually situated in Eastern Europe or some other far-off location.
Hartman, however, experienced a rare bit of luck after quickly recognizing the scheme's weak spot: He had the name and address of the person who was to receive his payment. So he called the local postmaster and sheriff's department for Ben Wheeler, the East Texas hamlet where his cashier's check for $1,536.51 had been delivered. He explained he had sent the payment to a town resident and only later learned the sale was fraudulent. Within a few hours, he received the phone call he had been dying to get.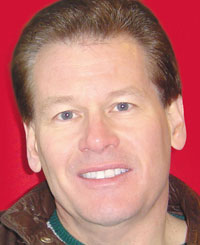 Mark Hartman
"I'm in Joseph's house right now, and I have your check in my hand," Hartman recalls being told by a local sheriff's deputy. A few days later, Hartman had the cashier's check returned to him.
Joseph and the amazing techno-slavic dream scam
"Joseph" was the first name of the man Hartman believed was selling the carbon-black, 52-centimeter Specialized Roubaix bicycle and to whom Hartman had addressed the cashiers check. It turned out the man really did exist, and according to Lester Alexander, a captain with the Van Zandt County Sheriff's Office, he lived in a mobile home next to his parents. Alexander soon discovered Joseph had Down Syndrome, a genetic disorder that often results in diminished cognitive abilities.
"I knew right off this guy wasn't selling $1,500 bicycles," Alexander told The Register. "It was obvious there was something not quite right. The young man had no idea what he was supposedly selling and taking money for."
According to Alexander, Joseph (The Register is withholding his last name) came about his job by answering an ad offering home-based work. To apply, he had to provide detailed information about himself and copies of his drivers license and a recent phone bill. In addition to Hartman's cashier check, Joseph had recently received a personal check for $1,735 sent by a California-based woman in a sham sale of an exercise bike.
Emails sent to Joseph's account instructed him to deposit the funds into his personal checking account. He was then to send the payments minus a $70 commission to an address in Ukraine, Alexander said.
The Golden Mule
In the shadowy world of online fraud, people like Joseph are known as mules. They shoulder the load and risk of well-concealed con artists.
"They have a lot of redundancy built into it, and they don't have anybody making a lot of money," said Ken Dunham, a fraud buster at iSight Partners who has been doing mule investigations since 2004. "It's a perfect type of setup to make it difficult to hunt down the kingpins behind these laundering schemes."
Indeed, other people bitten by eBay fraud have been met with considerably less success when pursuing the mules who played a hand in scamming them. But that hasn't stopped them from trying.