This article is more than 1 year old
IBM adds 'autonomic' tools to data center gear
And it knows what you're thinking
IBM is rolling out a new set of autonomic computing tools for some of its key Tivoli data center products — er, that's adding self-management software if you want to be less grandiose about it.
"Autonomic computing" is IBM's preferred term for applications that make data centers more self-managing and self-healing. It's a concept that's gripped IBM for six years as a way to reduce operational costs and dependence on human intervention.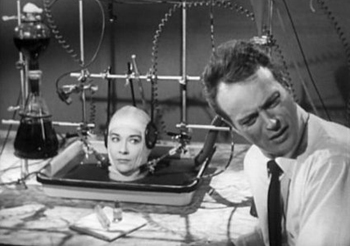 False alarm, it's just monitoring software.
It's a phrase coined from the autonomic nervous system, which of course controls our organs and muscles in our bodies. We're usually unaware of its — you know what? Let's not get pedantic about it and move to the news.
IBM is adding self-management capabilities to Tivoli Usage and Accounting Manager, Security Operations Manager, Monitoring and Change and Configuration Management Database.
Tivoli Usage and Accounting Manager gets tools for resource accounting, cost allocation and chargeback billing based on the resource usage.


Tivoli Security Operations Manager receives autonomic add-ons that analyze data from throughout the data center to detect security threats.


Tivoli Monitoring gets availability and performance monitoring with diagnostic data and automated corrective actions to boost performance and avoid availability hiccups.


Tivoli Change and Configuration Management Database will automatically track information spread across the computer systems in a company, such as details about servers, storage devices, networks, middleware, applications, your children's' names — in order to help the IT staff get a better grip on infrastructure and dependencies.


Earlier this week, IBM announced a spiffier Systems Director Active Energy Manger, which tracks power consumption and makes adjustments to improve efficiency. The new version lets admins cap power usage and monitor workload trends for better deployment planning.
If you're interested in IBM's autonomic platform, you can read about it here. We dropped that story in our database way back in 2003, but it's taken care of itself. Ah ha! See what we did there? ®