This article is more than 1 year old
Intel does small storage box with EMC
Entry-level NAS storage SS4200x
Intel is making a second charge at home and small-business storage with a new box for distributors, resellers and channel partners to re-brand.
The prosaically named Intel Entry Storage System SS4200x ships as either a hardware-only unit or in coderific mode with Linux-based server software from EMC.
Either way, it's going to look a bit like a briefcase.
The platform is powered by a custom Intel Celeron 400-series processor with 512M DDR2 memory and the 945GZ memory controller hub and ICH&-R I/O hub. It has four non-hot plug bays for disk drives from 80GB to 1TB. It also sports an external SATA port for storage expansion.
Intel is eyeballing the small office or home users with limited storage expertise for this one.
Going with the software version, you'll get some custom EMC server software designed for the home NAS (network attached storage) market. The package offers sharing protection and Retrospect managed backup and recovery as well as media streaming and support for CE devices for the home user. The system supports both Windows and Mac clients.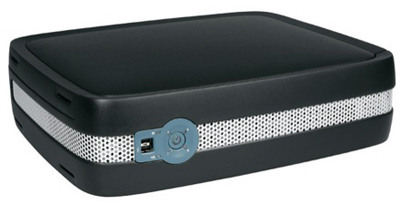 Yes, but can it store the soul of Marsellus Wallace?
The bare-bones option is a strictly hardware for channel partners to package their own software. They say it's an "ideal platform" for Windows Home Server, and vendors including Falconstor, Open-E and Wasabi systems are validating and developing software for it.
Both models will start showing up next month, with a price beginning around $500. ®