This article is more than 1 year old
US manned spaceflight after Shuttle could be delayed
Not so solid crew module launcher
The planned Ares I rocket - which will be the USA's only way of putting people into space after the Shuttle retires in 2010 - faces "significant threats" to its performance, according to an internal NASA document. The problems have already led to significant delays.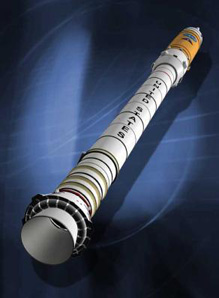 Fuel's solid: design not so much?
The Ares I first stage is a modified version of the solid-fuelled boosters mounted either side of the Shuttle's external fuel tank, and apparently it is here that the problems lie. The solid booster must lift the second stage - a liquid-fuelled rocket based on the J-2 design used in the 1960s Apollo moonshot programme - plus the crew module and its abort bailout system.
NASA says that the Ares I stack will be able to lift 25 tons into earth orbit. However, there have been rumours that the first-stage modifications - which involve adding an extra segment and structural strengthening - have cut into the weight allowance for the crew and service modules.
Now Flight International reports that an internal NASA circular says that "there are significant threats to the performance" of the Ares I. It seems that a preliminary design review of the first stage has now slipped six months behind schedule.
NASA says that there will be a four-year hiatus in manned US spaceflight between the Shuttles retiring and Ares I coming online. "Crew transportation to the International Space Station is planned to begin no later than 2014," according to the agency.
"The first lunar excursion is scheduled for the 2020 timeframe."
The return to the Moon will call for more complex missions in which Ares V unmanned heavy lift rockets will fire cargo and modules into orbit. These payloads will then be assembled into ships which can carry Ares I-lifted astronauts to the lunar surface - and then, according to plans, on to Mars.
However, it would appear that the timetable is already beginning to slip. The Flight piece is here. ®