This article is more than 1 year old
Sony posts PS3 firmware 2.0
Added: remote control and more
PS3 owners need no longer worry about being separated from their console, because Sony's latest firmware update - version 2.0 - lets users remotely start their PS3.
Dubbed Remote Start, the firmware feature builds on Remote Play – an existing feature allowing gamers to stream content from their PS3 to a PSP – by letting PSPs remotely switch on the console when the handheld is within range of a wireless hotspot. Although a tie-up with Starbucks hasn't been announced...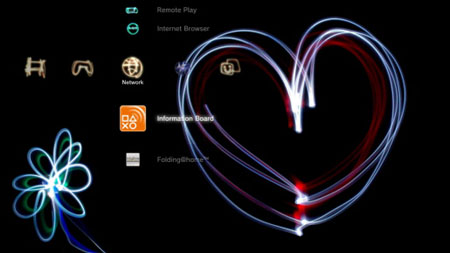 Sony's PS3 firmware 2.0: wallpaper available
Version 2.0 also includes Information Board, which Sony claimed allows it "to communicate directly with PS3 users" for, you guessed it, news about software, hardware and firmware releases.
Sony's also added a custom themes feature to let gamers personalise their PS3's XMB user interface. For example, you can now change wallpapers and icons with themes downloaded from the Playstation store. You'll be able to create your own too, though Sony's not yet saying how. Keep an eye on PlayStation.com is all it would say on the matter.
Sony also has plans up its sleeves for theme tie-ups with specific titles and brands.
Gamers now have direct access to the online PlayStation Store and to their account management settings, thanks to the addition of a PlayStation Network icon to the XMB.
The update also includes a setting for creating music and photo playlists from content stored on the PS3.
Unfortunately, the update makes no reference to features improving the console's support for Blu-ray Disc interactivity features, which was promised "soon" by a Sony executive last month.
More information about the PS3's version 2.0 firmware update can be found on Sony's website.