This article is more than 1 year old
HTC TyTN II smartphone
TyTN II: sounds like an ICBM
The keyboard is revealed with a gentle thumb-push with the device in landscape position. It's a smooth, two-action movement to propel the screen into the tilting position, angling to any position up to around 40°. The slider also switches the screen automatically into landscape mode, giving you a mini-laptop viewing experience.
HTC has done well to shoehorn the keypad into such a compact space while still retaining usability. The 39 keys are slightly raised and curved so you can distinguish them with your fingertips. And they're sensibly labelled, with white letters on black keys for the main Qwerty array. The blue function (Fn) keys are also visible thanks to a backlight when typing, and Caps and Fn LEDs light up when these modifiers are engaged.
The two soft-meny keys between the keypad and screen are a bit hard to reach when the display is tilted, but you can tap the screen instead if necessary.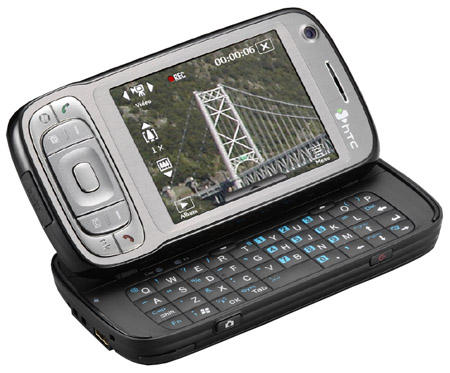 An ingenious screen tilt mechanism
The TyTN II's design genuinely allows two-finger typing. Some thought has gone into the stability of the device when you're entering text. It doesn't fall over, and the screen angle really aids its use as a desktop companion. It's very easy to use, and is a real step up from simple thumb-banging note-taking, though you can do this too, of course.
You have to be careful not to force the screen beyond a 40° tilt, or it could get damaged. In normal use this shouldn't be a problem, but don't let kids or drunken friends play with it...
Another impressive feature of the TyTN II is the jog wheel control on the side of the phone to help navigate menus and select options. We've always liked this control - it adds speed and flexibility. Combined with the screen-tapping for quick drop-down menus and accessing extra options, it really helps navigation. And there's a virtual keyboard option too for quick text-entry without the real keyboard.
If that's not enough, button-activated voice commands for initiating some functions is another option.
The TyTN II uses a 400MHz Qualcomm MSM7200 CPU, has 128MB RAM and 256MB of Flash ROM. User storage available on our device was around 133.5MB, although there's a Micro SD card slot on the edge of the screen to add more.