This article is more than 1 year old
Start-up rolls out meaty desktop cluster
For geeks like you and you
Scalable Servers Corp. has removed its cloak of stealthiness to reveal a company focused on taking care of engineers, workgroups and SMBs with tabletop clusters.
Tabletop cluster? Yes, that's right. These little beasts of GHz goodness have started to become all the rage.
Orion Multisystems pioneered the idea of giving an engineer his very own near supercomputer-class machine before the company disappeared. Over the past couple of years, companies such as Penguin and Supermicro have done similar things, and this week start-up SiCortex dropped a dizzying breadbox. And, as we hear it, HP demonstrated a modified "Shorty" blade that could do grunt work at a financial services event earlier this year.
Another playa angling for the desktop supercomputer market was Tyan's aptly named TyanPSC division. Last year, it showed off the "Typhoon" system - a 21 inch x 14 inch x 28 inch wheelable case that held five two-socket server boards.
Well, since then Tyan has been eaten by Mitac, and the TyanPSC group has been spit out as Scalable Servers Corp. (SSC) - a start-up with offices here and in Taiwan.
SSC is trying to distance itself a bit from zeroing in just on the high performance computing market with the new flexBLADE system. The company thinks anyone who needs a lot of computing power in a small amount of space can benefit from the box. So, that includes the workgroups and SMBs mentioned earlier.
In reality, however, it's, in fact, engineers and coders who have shown the most interest to date in these types of systems. For example, computational fluid dynamics god Antony Jameson relies on an old Orion unit for his work at home.
The flexBLADE lets customers slot up to five dual-socket blades in a stubby package. You can use the box as a deskside machine or flip it on its side for rack use.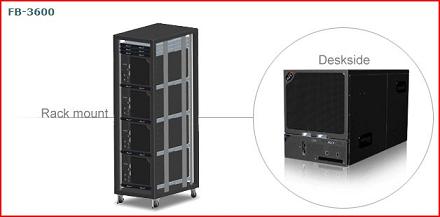 SSC's flexBLADE
The unit runs on Opterons (fully-powered Barcelonas) for the moment and can be configured as a cluster. In addition, you can just check a box in SCC's management software and combine two sets of two blades to create an SMP.
Each blade also boasts its own PCI Express slot, support for up to 16 DIMMs and room for a pair of 2.5 inch disks.
The back of the chassis has five PCIe slots, and there's room inside for 14 more 3.5 inch disks.
So, you can pack this sucker with plenty of hardware and outfit it with a bevy of ATI or Nvidia cards.
"Built-in networking includes 10 or 20 Gigabit InfiniBand, 10 Gigabit and 1 Gigabit Ethernet with full system management that allows the flexBLADE platform a wide range of configurations to match performance and cost requirements," the company said.
SCC is already pushing early units out to the OEMs that it hopes will pick up the box and resell it. The flexBLADE will go into full production during the first quarter of next year.
You'll find more on the system here. ®