This article is more than 1 year old
Tesco punts Xbox 360 bundle for £33.24
Get 'em while you can
Updated Those of you looking for an Xmas Xbox bargain could do worse than get down to Tesco where the supermarket monolith has had an attack of Yule philanthropy: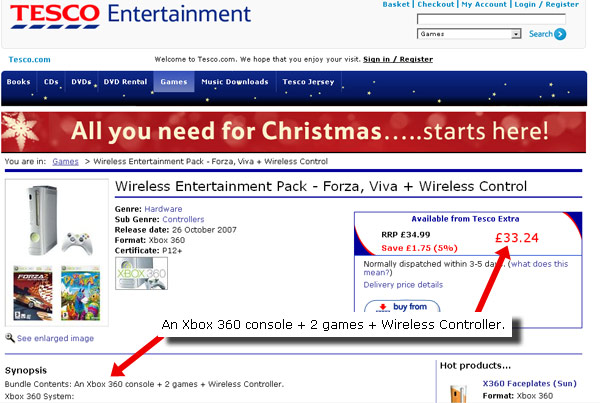 Yup, that's quite a bundle for the price, and no messing. We have no doubt this is a limited-period-only offer, so you'd better flash the plastic quick. ®
Update
Too late, you missed it. The above link now leads to the disappointing message:
This Tesco.Com store is currently unavailable due to essential maintenance.

We hope to have the service back to normal as soon as possible.

We apologise for any inconvenience caused and look forward to seeing you back here soon.

Thank you for shopping with Tesco.Com.
Ah well, try writing a letter to Santa instead.
Bootnote
A pre-Xmas ta very much to Gavin Smith for the tip-off.