Asustek is developing a desktop version of its ultra-compact Linux-based laptop, the Eee PC, the company's marketing chief has said. It wants to get the mini machine into shops sometime next year.
Jonathan Tseng, Asus' President of Marketing, told Taiwanese site Digitimes that the desktop will not incorporate a display. So anyone anticipating an even smaller iMac-alike than ones we've seen to date will be disappointed.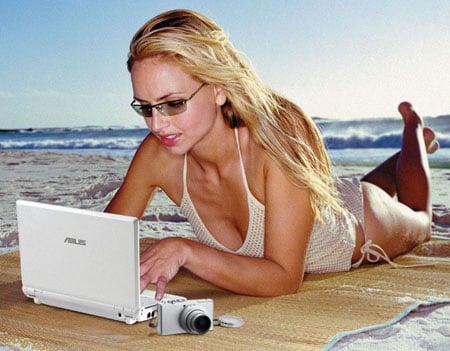 Asus' Eee PC and pal: desktop model next year
Instead, it's not hard to imagine a compact block hooked up to a standard monitor - the Eee PC laptop already has a VGA port - and USB-connected keyboard and mouse.
While there's no doubt desktops are far less fashionable than they once were, not least thanks to falling laptop prices and the way notebook industrial design has eclipsed its desktop counterpart, small systems like Shuttle's XPC M200 - reviewed here - Apple's Mac Mini and AOpen's Mini PC are winning support from consumers who want a desktop machine but don't need the expansion capacity of a tower unit.
All these machines are essentially laptops compressed into tiny desktop units, so it's not hard to envisage Asus doing the same thing with the Eee PC's internals.