This article is more than 1 year old
Queues start a day ahead of UK iPhone arrival
Two for a pand...show us ya money
Despite utterly miserable conditions last night in London, die-hard umbrella-armed iPhone aficionados began lining up outside Apple's flagship store on Regent Street yesterday morning.
Graham Gilbert, a 22-year-old computing student, braved the rain and bagged the honour of being the first in the UK iPhone queue.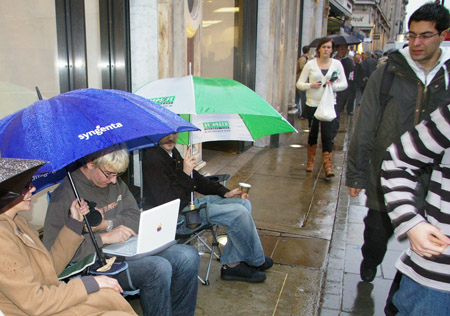 Graham Gilbert - the green umbrella guy - is first in line
He told Register Hardware that he rocked up at 8.30am yesterday morning and had bunked a lecture for the privilege.
"I've been looking forward to the iPhone since it was announced in January," Graham said.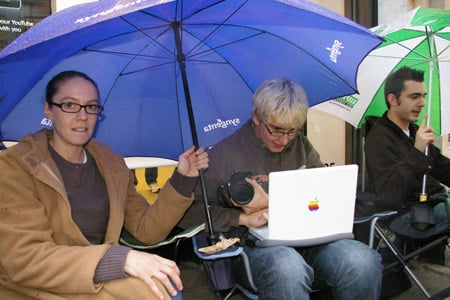 Would you queue for an iPhone? iDunno...
He said he planned to stay overnight and had his sleeping bag to hand, with friends bringing him and his queue-buddy, TUAW blogger Nik Fletcher, nutritional supplies.
Graham said he intends to buy an O2 contract for his iPhone and that he doesn't plan to unlock it, as it would just get "broken again" with the next iPhone update.
However, according to one Register Hardware reader these rain-soaked supporters needn't have bothered queueing. Peter Alexander tells us that he rang up his local O2 store to see if he could reserve one of these "newfangled iPhone things" and despite being told he couldn't, he was reassured that O2 have an "unlimited supply".
"Obviously, the back storeroom of O2 shops has some previously unheard of Tardis-like properties or the iPhone has a new unheard of never-out-of-stock feature," he told us.
The iPhone - reviewed here - will also be available from major Carphone Warehouse outlets when it goes on sale at 6pm tonight.