This article is more than 1 year old
Dublin designer branches out with 'tree' PC
Cultivates award
An innovative tree-shaped PC that allows users to upgrade parts of the computer separately when required, has won a major design award.
Laura Caulwell (22), a graduate of the National College of Art and Design (NCAD) took home the Dyson Ireland Student Design Award on Wednesday for her invention entitled "Cultivate - the Sustainable Living Computer".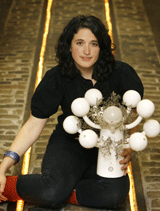 Caulwell, who was awarded €2,000 after scooping the top prize, will now go on to represent Ireland at the prestigious International James Dyson Award held in January 2008.
Shaped as a tree, the "Cultivate" allows each part of the computer to be upgraded separately so that as a user's needs change, the tree grows.
The trunk of the tree houses the motherboard, while 10 branches also hold the central processor, RAM, battery, power supply, expansion cards, storage, two speakers, an ambient light, and a mouse.
Any of these components can be "plucked" from the tree and sent back to the supplier for upgrade, recycling or remanufacture.
The Cultivate computer tree also features silver aluminum "leaves" which act as external heatsinks, cooling down each component. They are attached by the user, and can be bent and curled into all manner of shapes.
The Dyson Ireland Student Design Award is run in association with Design Ireland, Enterprise Ireland, Institute of Designers in Ireland and Invest Northern Ireland
Limerick University graduates, Marion Barry (22) and Kate Corish (22) took second and third place respectively in the awards with their inventions – "Swival", an indoor children's exercise toy aimed at combating child obesity, and "Solalift", a manual handling device for sheet construction materials.
The International James Dyson Awards, which has been running for the past four years, offers aspiring design engineers the opportunity to compete on an international stage for a total prize fund of over £15,000.
© 2007 ENN