This article is more than 1 year old
Great War diary reveals original Captain Blackadder
Grimly black humour amid the carnage
Blackadder would have approved. On 9 November 1916, Captain Alexander Stewart of Scottish regiment the Cameronians wrote from the Western Front: "I am very much annoyed by memos sent round from Headquarters that come in at all hours of the day and night; they stop me getting a full night's rest and some of them are very silly and quite unnecessary.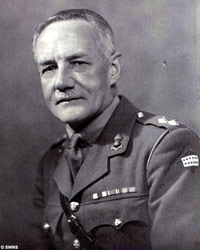 "When I am very tired and just getting off to sleep with cold feet, in comes an orderly with a chit asking how many pairs of socks my company had a week ago; I reply 141 and a half. I then go to sleep; back comes a memo: 'please explain at once how you come to be deficient of one sock'. I reply 'man lost his leg'. That's how we make the Huns sit up."
Stewart's grimly black humour amid the carnage of WWI forms the highlight of his newly-published diary which lay forgotten until his grandson Jaime Cameron Stewart decided to make the book available online. He writes: "Ninety years ago my grandfather wrote a very personal and graphic account of his time on the Somme in the Great War. He typed three copies and called it 'The Experiences of a Very Unimportant Officer in France and Flanders during 1916 - 1917.'
"Until now it has only been read by one or two members of my family and close friends. But now, as his grandson, I would like to share this amazing piece of personal history of his time in the trenches as an officer serving with the Scottish regiment The Cameronians. This account brings to life the reality and horror of what happened to him in those war-torn fields and the loss of life at Mametz Wood.
I hope you will find it equally fascinating."
Well, it's a sobering read, without doubt. In another extract, Stewart explains: "Most of the night we had to spend digging and pulling men out of the mud. It was only the legs that got stuck; the body being lighter and larger lay on the surface. To dig a man out the only way was to put duck boards on each side of him and then work at one leg, digging poking, and pulling, until the suction was relieved. Then a strong pull by three or four men would get one leg out and work would be begun on the other.
"Back to Battalion Headquarters was about 800 yards. At night it would take a 'runner' (i.e. an orderly taking messages) about two hours to get there. Going to and from Battalion Headquarters from the line, one would hear men who had missed their way and got stuck in the mud calling out for help that often could not be sent to them. It would be useless for only one or two men to go to help them, and practically all the troops were in the front line and had, of course, to stay there.
"All the time the Boche dropped shells promiscuously about the place. He who had a corpse to stand or sit on was lucky."
Stewart later wrote: "So far as I was concerned I found that as the months passed by, one's natural subconscious fear of death or injury was less easily held subservient to one's will or true personality. This was particularly the case at dawn or during very cold weather."
In 1917, after two years in the front line, Stewart earned his ticket home after being hit in the throat. He recounted: "I started to cough and brought up some blood and a bit of the shell which must have stuck in my wind pipe. My servant very kindly retrieved the bit of iron out of the mud and handing it to me, remarked that I might like to keep it. This I did and my wife has it now."
Stewart never returned to the battlefield, but suffered greatly as a result of his experiences. He set himself to writing his personal diary of the conflict, as his son Thomas Stewart, 84, explained: "He wanted to record what it was like, and he wrote well. For many years after the war he would wake up screaming in the night, but he never talked about it."
Captain Stewart finished his diary in 1928, and eventually died of old age in 1966, aged 88. It's available for download here for £9.95. Fifty pence from every book sold goes to the Royal British Legion's Poppy Appeal. ®