Nvidia GeForce 8800 GT graphics chip
Nvidia's bang-for-buck winner?
Review Nvidia's new 'G92' graphics chip is based on the 'G80' used in the GTS, GTX and Ultra versions of the GeForce 8800, and is a die-shrink that moves from the part from its predecessors' 90nm fabrication process to 65nm.
There are other changes inside the chip, which gains the VP2 video engine and bitstream processor used in the junior members of the GeForce 8000 family. Fans of HD video won't have to work their CPU quite so hard in future. Nvidia also tells us that the 8800 GT gains an AES128 encryption/decryption engine for HDCP content.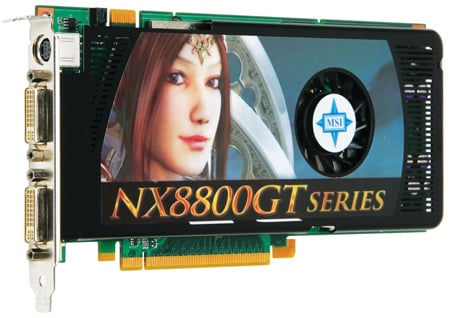 MSI's NX8800GT: cool runner
Thanks to the extra hardware, G92 contains more transistors than G80, with the count increasing from 681 million to 754 million.
Other new features include a move from PCI Express (PCIe) 1.1 to 2.0, and the adoption of HDCP for content copy-protection over dual-link DVI. If you have a socking great display, the dual-link connection can drive a resolution of 2560 x 1600.
In terms of the core speed, memory speed and Stream processors, the GT is positioned right between the current GTS and GTX models.
Standard
Asus
MSI
8800 GTS
8800 GTS
8800 GTX
8800 Ultra
8800 GT
8800 GT
Fab Process
90nm
90nm
90nm
90nm
65nm
65nm
Transistor Count
681m
681m
681m
681m
754m
754m
Core Speed
500MHz
500MHz
575MHz
612MHz
600MHz
660MHz
Memory
320MB GDDR 3
640MB GDDR 3
768MB GDDR 3
768MB GDDR 3
512MB GDDR 3
512MB GDDR 3
Memory Speed
1600MHz
1600MHz
1800MHz
2160MHz
1800MHz
1900MHz
Memory Bus
320-bit
320-bit
384-bit
384-bit
256-bit
256-bit
Memory Bandwidth
64GB/s
64GB/s
86.4GB/s
103.7GB/s
57.6GB/s
60.8GB/s
Stream Processors
96
96
128
128
112
112
Shader Speed
1350MHz
1350MHz
1350MHz
1500MHz
1500MHz
1650MHz
Typical Price
£195
£259
£349
£459
£188
£176
The new GT core runs at 600MHz, which is faster than both the GTS and GTX. The GDDR 3 memory runs at the same 1800MHz as the GTX and there are 112 stream processors - more than the GTS, less than the GTX - which run at the same 1500MHz as the 8800 Ultra.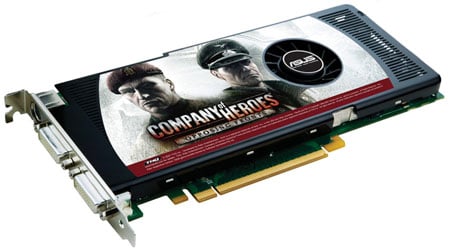 Asus' EN8800GT: a single-slot 8800 at last
The one notable difference with 8800 GT is a change in the memory controller. The GTS has a 320-bit controller for the 320MB or 640MB of GDDR 3 memory, while GTX uses a 384-bit controller for its 768MB of memory, but the GT employs a 256-bit controller for 512MB of memory. Despite the faster memory speed used by the GT the memory bandwidth is narrow than it is on the GTS, significantly slower than the GTX and half that of the Ultra.