Nvidia GeForce 8800 GT graphics chip
Nvidia's bang-for-buck winner?
We compared the two 8800 GT cards with an Asus EN8800GTS that is a basic model with 320MB of memory. The GTS performed surprisingly well on driver 169.02 but it was hosed down in 3DMark06 by both GTs at standard clock speeds.
Nvidia GeForce 8800 GT - 3DMark 06 Results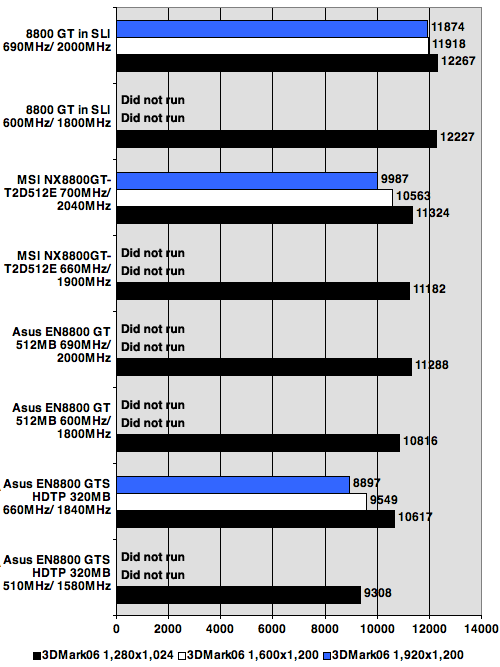 Longer bars are better
However, the GTS overclocked by a huge amount, from 510MHz/1580MHz to 660MHz/1840MHz, and the resulting performance was comparable to the Asus GT at standard speed. Once we'd overclocked both GT cards, the GTS was beaten again but the margin was fairly small. The benefits of the new GT were clear: it drew 30W less power at the socket than the GTS and took up half the space inside the PC.
Nvidia GeForce 8800 GT - system power draw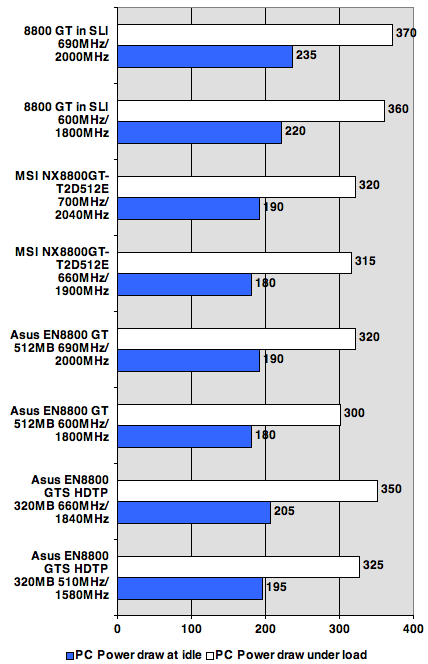 Power draw in Watts
Shorter bars are better
Naturally, we plugged both GT cards together in SLI but the results were unimpressive. Our inclination is to point the finger at the drivers as SLI rarely seems to work properly on new cards.
Verdict
Nvidia's GeForce 8800 GTS is a firm favourite among gamers for its combination of superb gaming power and excellent value for money. The 8800 GT adds some handy features, a sprinkling of performance and a single-slot design at a price that's irresistible.

Nvidia GeForce 8800 GT graphics chip
Nvidia's GeForce 8800 GT hits the streets with the promise of more graphics power at a lower price...
Price:
£188 (Asus) £176 (MSI) RRP